Rob Fritz is delighted with ETC's recent union with High End Systems. "I always was a Hog guy and now I can say I'm an ETC Hog guy," he states with pride. As a senior lighting designer, focusing on special and live events for Burbank-based Radiance Lightworks, he has designed or programmed on a full palette of consoles. "I believe the ETC Express to be the best console to learn programming—it is so solid that if something goes wrong onstage you know it's you and not the console."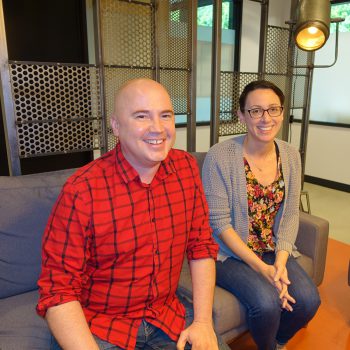 The veteran (he prefers "seasoned") of this millennially-driven team, Fritz admits to owning an original High End Intellabeam configured into a coffee table. He is kept busy with designs for toy maker Mattel's trade show booths and product launches. Since 2001 he has seen their 1300 tungsten fixture rigs partially replaced with LED technology. "At one time we had rows of ETC 48- and 96-way ETC Sensor+ racks lined up in Mattel's studio—we were definitely putting a strain on the air conditioning," he jokes.
Mattel and Universal remain the flagship accounts for this dynamic young company, says Radiance President Jen Goldstein, whose youthful looks belie her considerable experience. A graduate of UC Irvine, she spent three years at Visual Terrain and a year at Walt Disney Imagineering before joining Radiance as an architectural designer. Now in charge of the scheduling, she's proud of how her crew works together. "Our designers do not conform to the stereotypical image of the high maintenance, ego-driven types—we all work as a team," she says, referring to the core group of five full-timers and as many as 30 freelancers who are called in for the busy season.
But with a strong recruitment plan that includes an intern program, close connections to CalArts, UC Irvine and USC, not to mention Fritz's extensive Rolodex (millennials may have to Google that), Radiance continues to look to expand. "We often take on interns who become freelancers and could become full-timers," adds Goldstein. With a business model "to do everything for a small group of clients" the company has the bandwidth to take on new clients, too.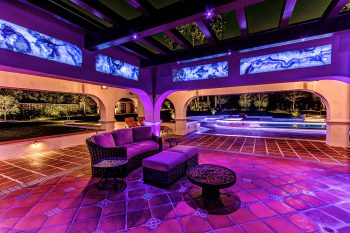 The entertainment team will design, install and source equipment for events, while the architectural projects are typically handed over to the electrical contractor after the initial design, though that may be changing. As the control end of architectural projects grows in complexity, the need to work closely with contractors becomes critical. "Electrical contractors are used to line voltage dimming systems, so we help them through the process of using ETC's Mosaic and Paradigm control systems," says Goldstein, who often brings her programming talents to bear on the final product. "I really love the programming part, especially in retail spaces—that gets me out from behind my desk." In the competitive architectural control market, she often uses a single universe and a Mosaic touch panel for smaller jobs. Kelly Smith, another senior lighting designer, also focuses on architectural projects.
Founded in 1999 by current CEO Clayton Alexander, the company has always favored ETC consoles and fixtures and is happy that Universal has adopted ETC as a preferred vendor for their wide variety of events. The ColorSource range of fixtures has provided them a cost-effective luminaire that, according to Fritz, offers an almost equivalent alternative to the color of the Source Four LED Series 2. But he still appreciates the Source Four LED Series 2 fixtures as well. For the recent opening of a Jimmy Buffett's Margaritaville restaurant at Universal's City Walk, he brought in a few Series 2 fixtures with a Lustr array for gobo effects. "At first the client was nervous that an LED fixture could not punch through, but they were perfect for the job," says Fritz.
While everyone has a wish list of products they'd like to see from ETC, Fritz has an important personal plea: "Please, please never ever get rid of the pig button on the consoles!"
*****************************************************************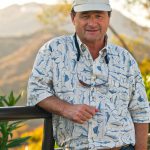 Marshall Bissett grew up in Central Scotland and developed an early interest in theater at Perth Repertory Company. After graduating with an MA in English and French from St. Andrews University in 1970, Marshall studied theater direction at the prestigious Old Vic Theatre School and worked as a production manager for every small regional theater in Britain. At the Young Vic in London, he worked on the original productions of Joseph and the Amazing Technicolor Dreamcoat and Tom Stoppard's Rosencrantz and Guildenstern are Dead. Lured by the promise of foreign travel with per diem, Marshall worked as lighting crew chief for Brian Croft's ESP LIGHTING. He toured with Chicago, The Beach Boys, Neil Diamond (two tours of duty with Patrick Stansfield), the Rolling Stones, Bette Midler (with Chip Monck) and Bob Dylan. In 1978, he was Lighting coordinator for Paul McCartney's Concert for Kampuchea. In 1980, he moved to Los Angeles to run the lighting division of TFA until 1983. There, he organized the concert lighting sequences for This is Spinal Tap. In 1983, he founded TMB, a supplier of lighting equipment and production supplies worldwide. He directed an award-winning production of Oh! What a Lovely War at the Knightsbridge Theatre in Silver Lake. He retired from TMB in 2014 and is currently working as a freelance writer for the concert lighting industry.