It is rare for lighting designers to care much about the Australian platypus but Chris Rynne has no choice.
The San Diego Zoo has invited these antipodeans to visit the United States for the first time and wants to ensure they get the correct amount of UV light on their vacation.Chris may have found the answer in ETC Mosaic's light sensing technology and astronomic time-clock features. Would setting the world clock to Aussie time lessen the effects of jet lag? Which UV will work best for these exotic visitors? Chris believes that each lighting design project, whether architectural or theatrical, is "one big puzzle" waiting to be solved and he will not rest until he has found the answer.
As the ETC rep in the San Diego area, who is still active in theatre and opera design, Chris finds no shortage of puzzles. Recognizing the then-emerging "architainment" market, OCS (under encouragement from Randy Pybas) hired Chris in 2008 to boost their theatrical presence. His background as Lighting Director and designer for the Old Globe Theatre has served him well when it camos to lighting buildings instead of actors. "I am more of a prophet than a sales guy," says Chris, "Anything with color changing and complex control is my gig."
While OCS handles over 120 product lines, Chris runs the ETC side of the business, a market that has grown with many large projects including Petco Park stadium and the Marriott Marquis and keeps him quite busy with "fun stuff." On the programming side of architectural projects Chris calls on his associate, Brian Mills, for the heavy lifting: "As long as I can hook up a console, I'm OK. If it involves painstaking configuration work, I get bored and call in Brian." Chris is excited by the frequent opportunity to design lighting systems for many of the local school performing arts spaces. (There are more than 250 elementary/middle schools and over 50 high school spaces in his territory.) He loves the typical challenge: "Here's the box, here's the parameters, make it work." Growing up playing in 100-seat theatres has given him the knack of matching needs to budgets. The excitement in the eyes of the students takes him back to when he was in middle school just learning about theatre, or honing his skills at the theatre department at UCSD under the late Chris Parry.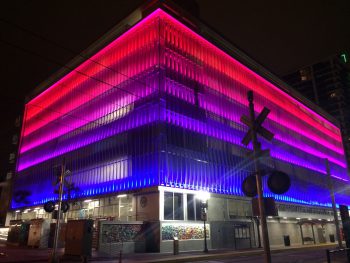 Equally at home with large scale architectural projects, he can point to a San Diego skyline that is a history of ETC's product line. The San Diego County Administration Building, known as the Jewel on the Bay, is lit with 121 large RGB flood fixtures controlled by Mosaic. A nearby downtown parking structure uses 876 1-foot RGB LED graze fixtures that called for many all-night programming sessions during commissioning. Chris is responsible for the creating the nighttime lighting schemes for Balboa Park – with 22 museums, The Old Globe, and several other cultural buildings and spaces, it is the largest outdoor urban park in North America. Using 65 RGB lights and 17 D40 XTI's, Chris has ditched the old clunky control in favor of an ETC Nomad Puck with a bird's eye view of the park. Chris wanders around calling out changes on his cell phone – he especially looks forward to Halloween and Christmas.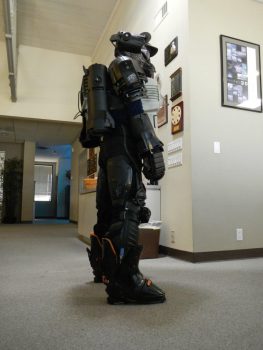 Keeping up with California's ever changing energy regulations under Title 24 is a full-time task, but for Chris it's just one more piece of the puzzle. And no interview would be complete without mention of his 2012 Facebook award- winning Halloween costume lovingly assembled from discarded ETC parts. "My skill is making weird things work. That took six months to create and was very, very heavy," says Chris. It's still another showcase of his skill with ETC gear.