Whether they're in the classroom or at the Maker Faire, Technical Artisans Collective makes it their business to teach NYC schoolkids about theater technology.
Technicians as teachers
When Technical Artisans Collective (TAC) formed four years ago, the company had an unusual and experimental goal: to bring in entertainment industry technicians as teaching artists in grade school classrooms. TAC partners with schools, educators and local businesses to develop in-classroom and after-school enrichment programs and to provide technical training for students who may be inspired to pursue a career in the technical arts. "Introducing kids to tools and technology changes a lot for them," explains Kim Guzowski Co-Executive Director of TAC. "Putting hands on lights and learning these skills creates confidence and a feeling of independence. Many of these kids have never been trusted with this kind of responsibility before."
In addition to Guzowski, TAC's core managing team includes Shawn Robinson (Co-Executive Director), Sarah Arnold, Becca Ball and Zoe "Where" Huertas – all industry professionals with roots in lighting. Over the past three years, TAC has also enlisted over 70 different stagehands and designers from all theatrical disciplines to help with their teaching efforts. TAC artists understand the value of interacting with art and technology from a young age, often citing their own first experiences with theater as teaching inspiration. "99% of us in lighting in the Collective started doing this when we were teenagers," says Guzowski.
Even for kids who aren't looking for a career in the arts, theater technology serves as a valuable academic teaching tool. TAC's programming covers a wide variety of topics, giving students hands-on experience with the context and the consequences of topics they study abstractly in school. A teaching artist might, for example, use the color-picker on an Ion® console to help students talk about story and theme through color or employ Source Fours to help fourth graders learn about geometry through lens degrees and beam angles. TAC provides "takeaway sheets" that reinforce the concepts learned in the workshops and to encourage them to continue to explore theatrical skills at home with their own experiments. "Being a technician is physical, but it's for the purpose of art and rock and roll and telling stories, and it's a reason to know your math," says Guzowski.
The making of a Maker Faire booth
Maker Faire, which bills itself on its website as the "Greatest Show (and Tell) on Earth," is a perfect fit for TAC's technically-minded brand of teaching. The annual festival is a pop-up celebration of DIY technology and art, aimed at inspiring tinkerers of all ages to explore science and creative engineering. For two days in early autumn, the event transforms the old World's Fair grounds around the New York Hall of Science in Corona, Queens into a village of white tents and open-air stages. Throngs of families, hobbyists and professional craftspeople – joined by the occasional mechanical puppet or steampunk performance artist – roam through the exhibits to peer at madcap inventions, science experiments, 3D printers and sustainable farming installations. In addition to demonstrations, many exhibitors set up kid-friendly craft projects and educational activities.
TAC has participated in the New York Maker Faire for the past three years, staging popular rigging workshops in which visitors have the opportunity to harness up and take flight. For the 2016 Maker Faire, TAC decided to add a lighting element to the exhibit, inviting visitors make their own gobo patterns and use them to explore the properties of light.
Because the Maker Faire takes place outdoors in broad daylight, the team had to drape their exhibition tent in plastic tarps to create a darkened light lab. The makeshift lab was outfitted with Source Four® LED Series 2 Lustr fixtures donated for the event by 4Wall Entertainment. Though the light lab fit only a handful of students at a time, Guzowski estimates that 700 kids came through the workshops over the course of the two exhibition days, guided by 20 volunteer technicians.
Art projects, projected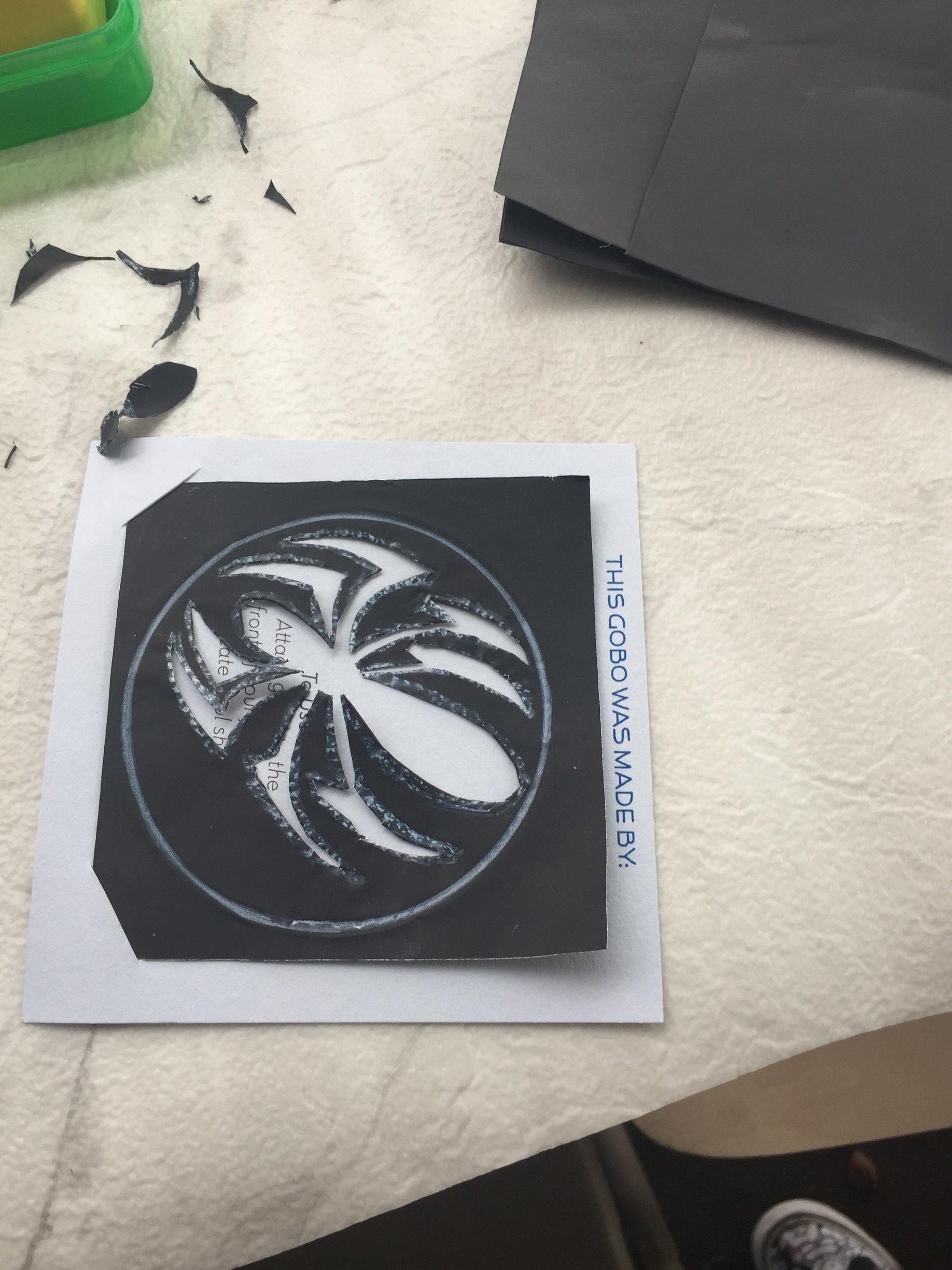 Visitors first stopped at a table outside the tent, where they learned about gobo templates and were invited to draw an original design on a piece of black wrap. Older visitors then cut out their templates using X-acto knives, while younger visitors made patterns using a range of kid-safe hole-punch tools. Designs ranged from the delightfully nerdy – a T.A.R.D.I.S. and multiple MakerBot robot mascots made appearances – to the artfully abstract. "A 10-year-old created a pattern that we want to submit to have made into a real template," says Guzowski.
Once their creations were finished, students brought their artwork to life in the light lab, learning a little about the science and craft of lighting in the process. Young artists got hands-on time with the fixtures, learning from professional technicians how to focus their patterns on the wall of the tent. Since the fixtures were LEDs, even young children could handle them without the risk of getting burned. Students completed their artwork by choosing a color for the beam.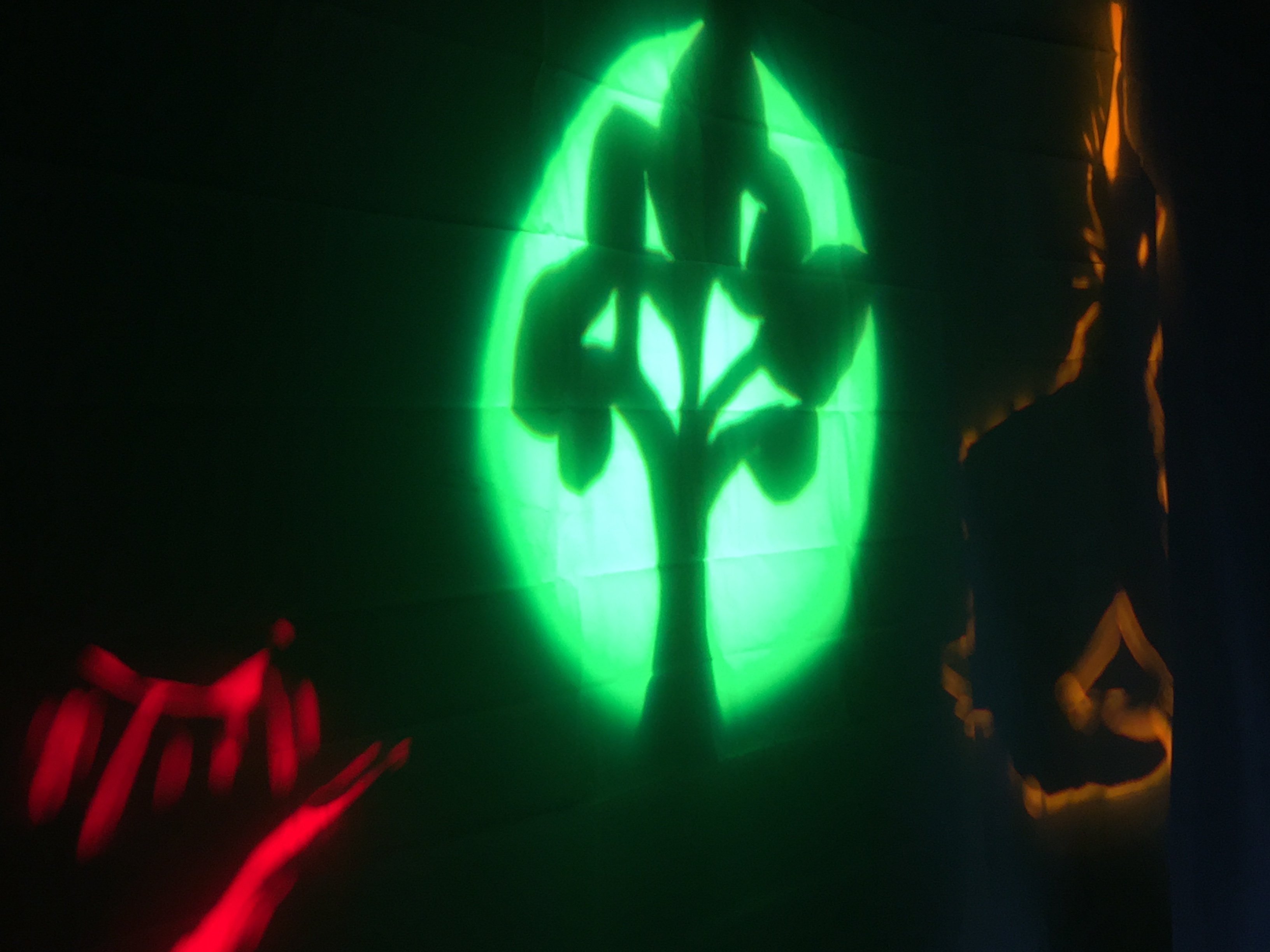 DIY lighting
Not everything in the light lab was high-tech. The booth staff also used flashlights to help their students play with ideas of proximity and beam angle. "One of the most important ideas for us is that kids can scale down their project and go home with it," says Guzowski. "We want kids to know that they don't need to have all the fancy equipment to go forward with exploring their ideas." In addition to all the photos taken by proud parents, kids left the exhibit with their custom gobo art and – hopefully – a new spark of interest in light and technology.
You can learn more about Technical Artisans Collective in their video below. Have more questions or want to get involved as a teaching artist or vendor partner? You can email TAC directly at info@tacollective.org
We'd love to shine the spotlight on other creative education projects in the technical arts. Do you have a story to share? Let us know at blog@etcconnect.com.