When ETC's headquarters building opened in Middleton, Wisconsin in April of 2004, Fred Foster, ETC CEO, wanted to create a space where everyone would feel comfortable gathering together. The lobby, known as Town Square, is exactly that. It was designed and manufactured by Foster and has become an iconic space for anyone who works at, or visits, ETC Middleton.
ETC's reception desk is known to occasionally baffle visitors when they walk into the lobby for the first time. After all, you won't find a standard reception desk waiting to greet you, but instead a full-scale replica of the famous 1942 Edward Hopper painting, Nighthawks.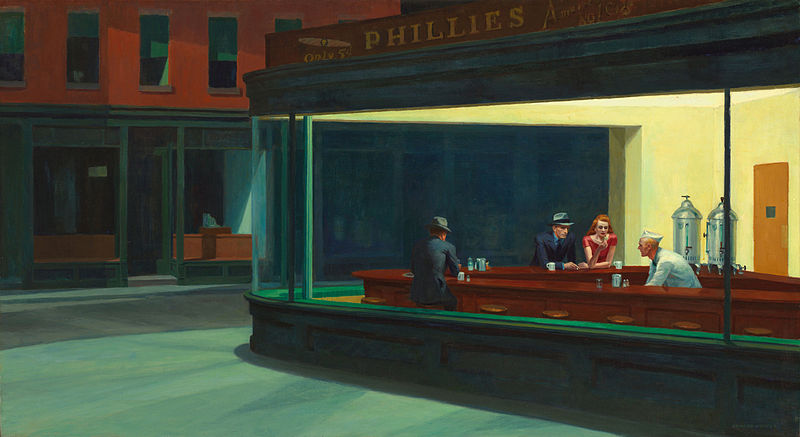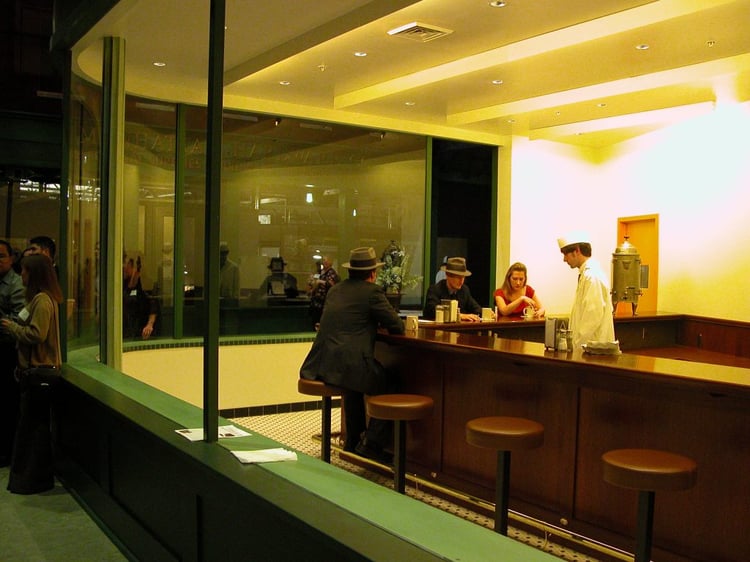 The majority of the walls in Town Square were built using expanded metal mesh panels which function as scrims, letting the light shine through to the office spaces behind them. They were painted by professional scenic artists and include a number of details taken from other Edward Hopper paintings.
A number of additional stagecraft techniques are used throughout the space – from the fiberboard and stucco 3D details on the first level, to the Formica "marble" in the entry way.
The entrances to several ETC departments are masked by faux storefronts and named for people who have been influential in the history of ETC.
The HR front is the Richard Kelly Insurance Agency, named in honor of Richard Kelly who sold us our first corporate insurance policy for employee benefits.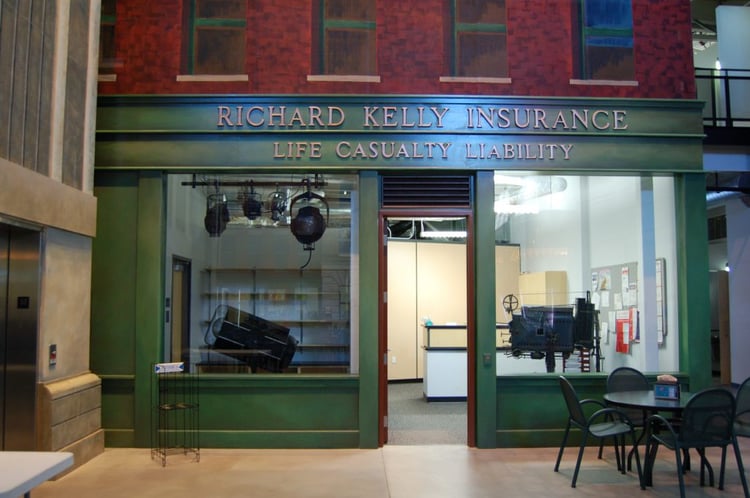 PS 8 is a large meeting and training room, named for public school #8 in New York City, which the VP of research and development attended as a child.
Century Theater is the other large training space accessed from Town Square and was designed as a black box theater. It's complete with movie marquee, show posters promoting ETC products, and a constant light show. It's named in honor of Century Lighting Company, a prominent firm in the early days of our industry.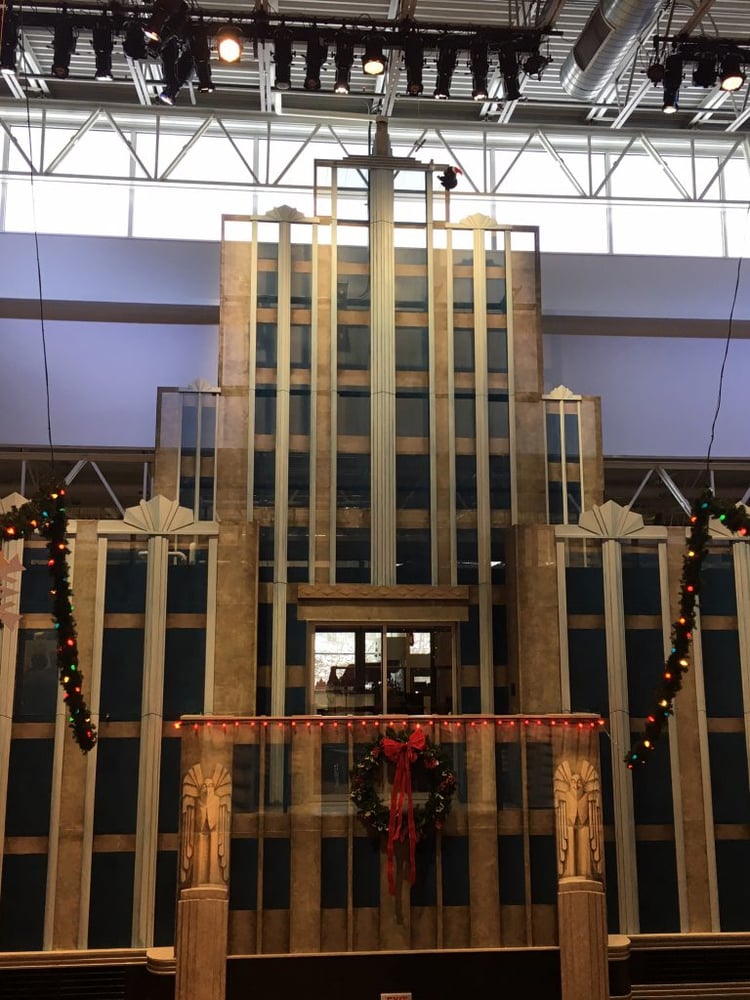 One of the most memorable times of the year at ETC is Christmas. The entire Town Square area is transformed. Giant swags, lights, trees, and fake snow are added. Santa waves from a chimney atop the apartments…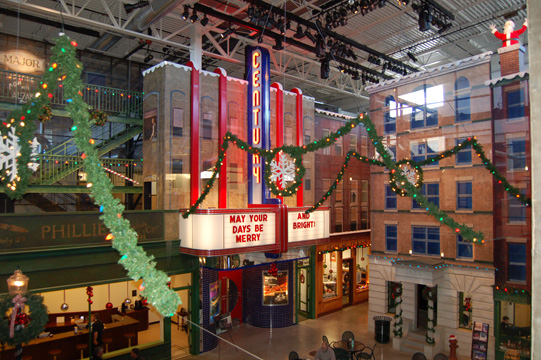 …the street lamps get wreaths and bows, and carolers come to sing. It truly is a winter wonderland.
Watch the extended-cut time-lapse video of the holiday decorating that happens each year in Town Square.
Other events in Town Square include company meetings…
Fund raisers…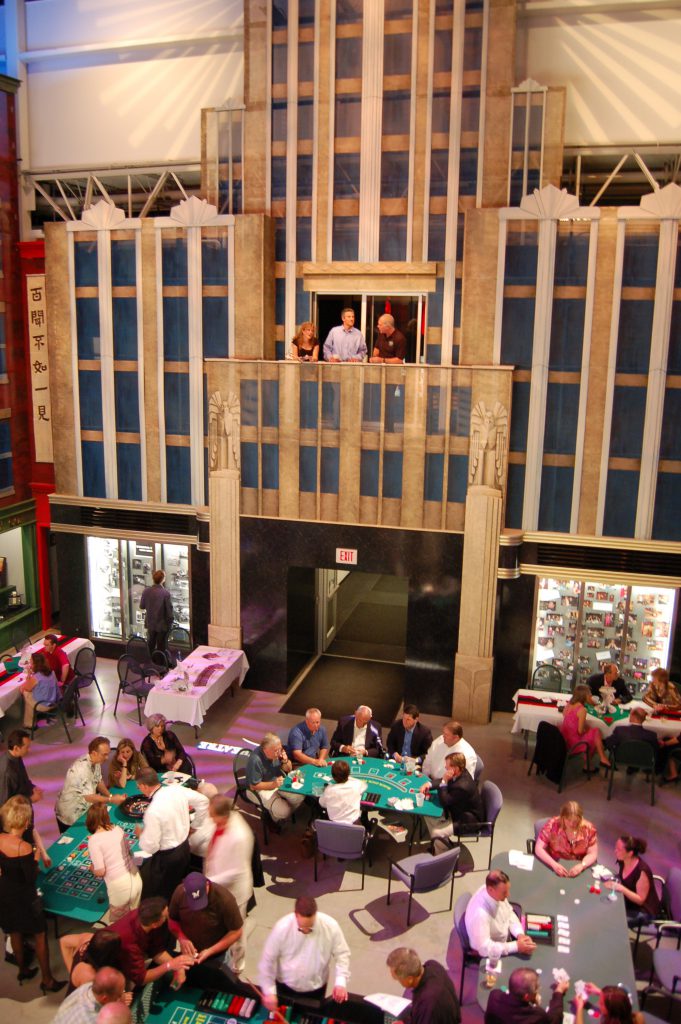 …and the very rare wedding reception.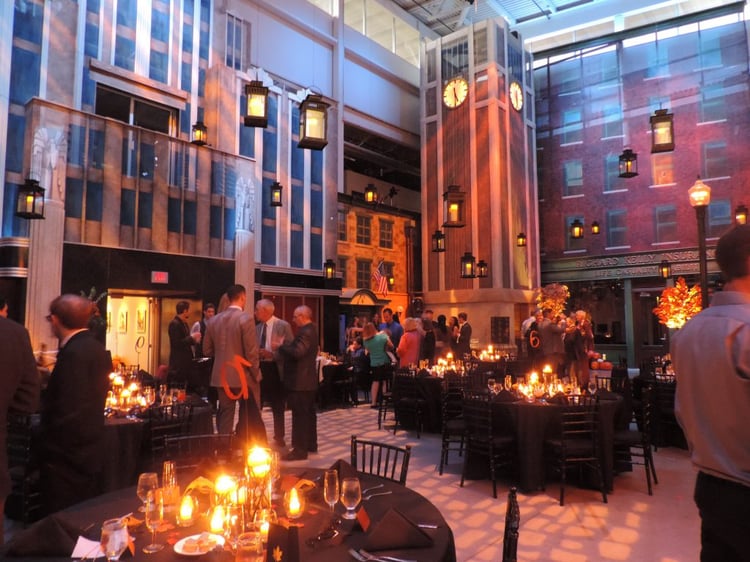 From company picnics, to benefit dinners, Town Square really has become the community gathering place it was intended to be.