At ETC, we're always creating new and exciting things – including new ways to teach you all about those exciting things! Recently we unveiled our new online training outpost: LearningStage. It's packed with all the courses and resources you need to take your understanding of ETC gear and software to the next level – packaged in a fresh format that makes it easier and more fun to learn! In this blog post we wanted to share a little bit about why we created the new site and give you a brief overview of how to use it. "Everyone learns in different ways," says Sophie Pierronnet, Education and Training Manager for ETC. "We needed a new site that could keep up with all the ways our users want to learn! This new platform is the way to do it. In addition to offering a more attractive way to interact with our content, it offers more possibilities for new learning options that we'll roll out in the coming months. I don't want to say too much, too soon – but we're working on features that should make our users, educators, and partners happy."
To get your first taste of the site, head over to LearningStage. You can view the full catalog and browse courses without logging in. But if you're a former student and you DO login using your ETC One account, you'll see all the courses you've completed (and those you haven't).
So you can better take advantage of all our educational offerings, let's take a quick tour!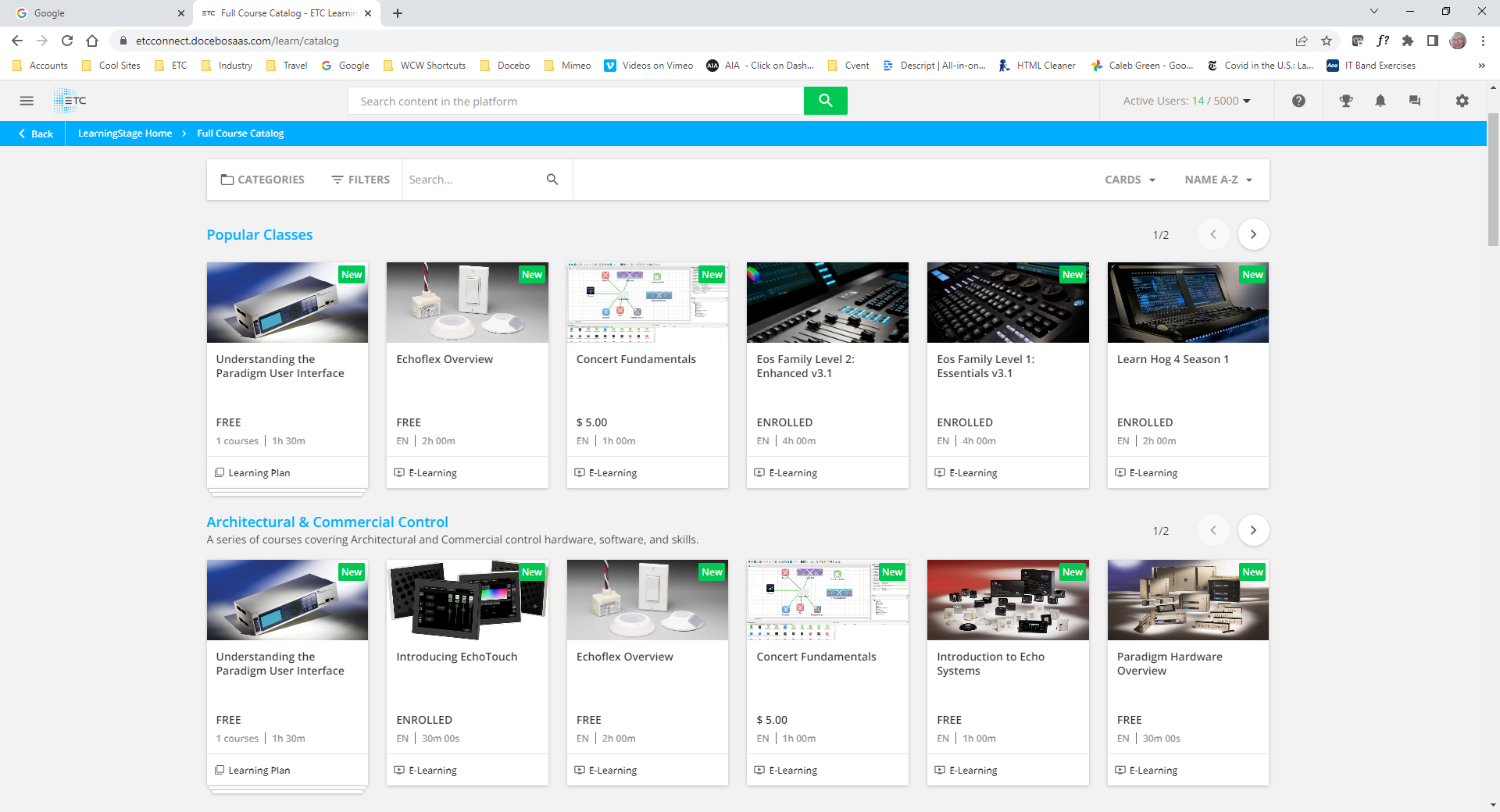 The Course Catalog
The big kahuna. The whole enchilada. A sampler platter of ETC education awesomeness. However you want to think about it, the fact is we have more than 50 classes to advance users learning. There's even a class about how to use the site! (May I introduce you to Gobo and Parr?) There's also Eos Family Levels 1-4, Learn Hog Season 1 and 2, and Expert Topics for Eos. There are also classes about fixtures, rigging, and more.
All the classes have been spiffed up and placed in an up-to-date format to make learning from them easier than ever. Not sure what classes you may have already taken? No worries! If you were a previous learner with us, we kept your transcript. You can see what courses you're enrolled in and find out what you've finished on your personalized learner page.
Finding What You Want
One of the benefits of our new systems is an improved search system. Searches can return more of what you're looking for, finding things in course materials not just titles and descriptions. But this does make things a little different than they used to be.
Rather than organize our new catalog around specific products, we have organized it around topics: Entertainment Control, Power Control, Fixtures, etc. You can quickly navigate to any of these topics and click on them to drill down manually. If you use the search bar at the top of every page, results will include courses, training material, and even course catalogs. If you use the search bar on the Full Catalog page, you'll be able to add filters that will narrow things down for you.
Staying Motivated
The new platform includes reminders to complete courses, as well as badges and points for course completion. You can even check out the points leaderboard and see how you stack up against others throughout the year!
Are you someone who is more motivated by in-person learning? We've got you covered there, too! Our in-person training is in full swing at our offices in Austin, Burbank (Los Angeles), New York, Orlando – and other places across the globe! Check out our training page to find one near you. And if you want to hear about training offers happening near you – like how we're expanding our in-person training to include our Mosaic line of control and how we're rolling out new training opportunities in the second half of 2023 – then sign up for our training news email! We'll send you offers and opportunities to access training however you prefer.