There are millions of incandescent Source Four fixtures out in the world. 3.5 million to be exact. Because of their high-quality design and robust technology, a majority of these fixtures are still running strong and are revered as the dependable workhorse fixtures of their venues.
As technology advances and incandescent fixtures fall by the wayside, we all are feeling the push to upgrade to LED. But if you're anything like my grandma, you don't just throw something out because it's old. And while your Source Four fixtures may be old, our guess is that they are still in reliable, working condition. Why would you throw away something that is still running strong, especially if your budget is limited? The easy answer is, you wouldn't.
Lucky for you, Source 4WRD Color II makes your decision to upgrade a lot easier. In less than five minutes, you can upcycle any existing ETC incandescent Source Four fixture to an RGBA LED fixture. You get the flexibility of additive color mixing, saturated washes, and quick color changes while staying within budget.
If it's not technically a new fixture, what are the benefits of the retrofit?
Let's start with the Green Factor. This non-destructive retrofit maintains most of the Source Four incandescent fixture. You remove the back end with a screwdriver and swap it for the Source 4WRD assembly. This means you do not have to dispose of an entire fixture – just the back end.
Do you know what else you no longer have to dispose of? Lamps! Swapping to LED means no more replacing lamps and no more having to access hard-to-reach locations to maintain your gear. Also, let's have a quick chat about gel – the additive color mixing of the RGBA array means you can mix thousands of colors without ever having to swap burned-up gel.
Next, let's talk about power – or lack of power. With the new Source 4WRD Color II retrofit, you're fixture now uses one-fourth of the amount of power as the incandescent version. It's not a secret that an incandescent fixture heats up to hundreds of degrees while in use. However, the temperature of an LED fixture is substantially lower, meaning you'll no longer have to cool your venue to the same level to counteract fixture heat.
No more lamps, no more gel, and reduced power? Mother earth thanks you for playing such an active role in reducing the waste of what is a very wasteful industry.
Tell me more about the color I get from a retrofit.
Let's talk a little more about the color you get from these fixtures. Can this little LED retrofit really take the place of your full gel library? Yes, and then some! Imagine the flexibility you'll have with built-in color mixing – you can add rich blues, and saturated reds to your stage on a whim! You even have the simple choice of using warm OR cool whites from a single fixture with Source 4WRD Color II.
And one great thing about keeping most of your Source Four fixture is that you still have the option for using the gobos and break up patterns and lens tubes you already have in stock.
This is S4WRD Color II – what makes it better than the original?
Compared to the previous generation of Source 4WRD Color, the new snap-in reflector and significantly brighter red emitter provide a notable intensity increase of 36%. This is especially true with warm whites.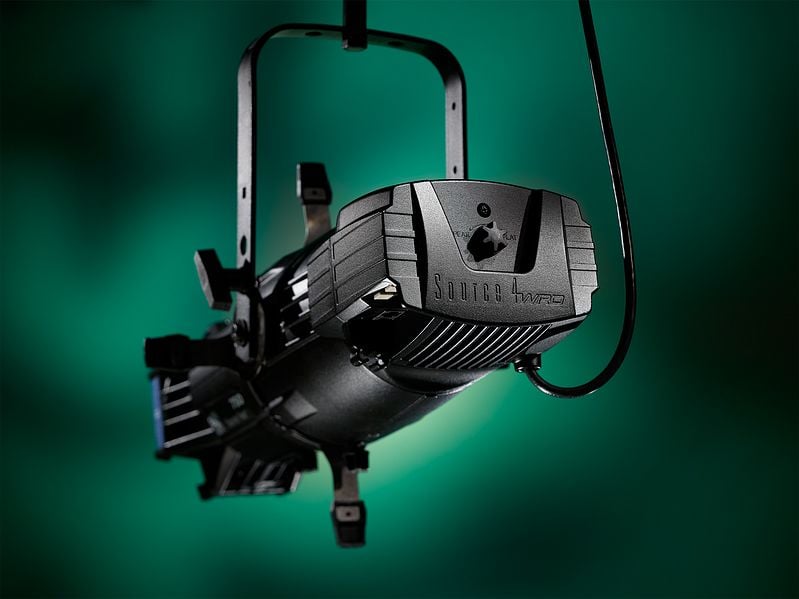 You mentioned budget friendly – but my budget it pretty tight.
If your budget only allows you to update a few fixtures at a time, ETC's Source 4WRD Color II is a great option. This LED retrofit was designed to work with incandescent lights, so the beautiful theatrical dimming curve blends seamlessly with traditional fixtures. And because this is a retrofit, you retain the most-loved features of Source Four, including crisp shutter cuts, beautiful pattern projection, and an entire library of Source Four lens tubes.
The Source 4WRD also includes the "Z focus" or field peak-to-flat adjustment knob so you choose if you want to project patterns with perfectly flat fields or blended washes with nuanced falloff.
I've heard LED fixtures aren't great on camera…
If your venue uses video as part of your performance, you'll be glad to know that, unlike many other LED fixtures, the Source 4WRD Color II was designed to work with camera technology. It features a 25kHz flicker-free mode to stop video scanlines in their tracks. Even cameras without a rolling shutter will benefit, especially at high shutter speeds. This makes it an especially great option for houses of worship that live-stream services each weekend, and schools that live-stream band and choir concerts!
We have a low-tech venue. Is it easy to use?
With 12 built-in color presets and five built-in sequences direct from the factory, stand-alone operation is easy to implement. You can even record your own presets and sequences for more versatility. With ETC's FixtureLink technology, you can trigger these presets to other cable-connected Source 4WRD Color II fixtures, as well as ColorSource, Source Four LED, and other ETC LED fixtures.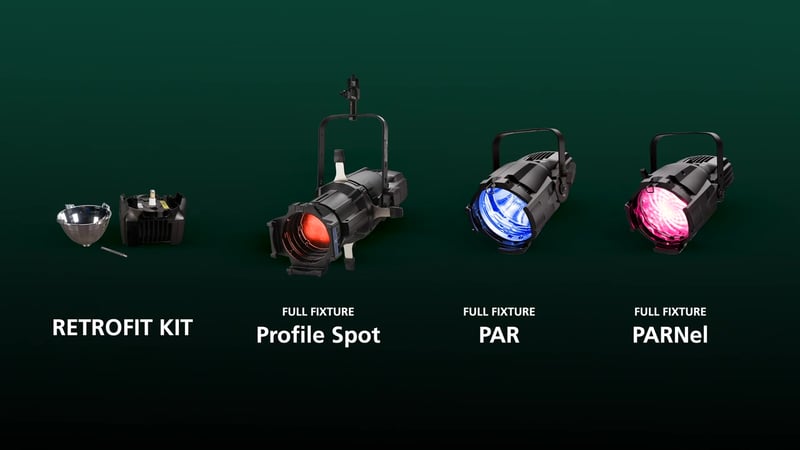 I don't have Source Fours. Can I still get Source 4WRD Color II?
Yes! If you don't have existing Source Four incandescent fixtures to convert but are still interested in this budget-friendly LED option, you're in luck. Source 4WRD Color II is not only an incredible retrofit but is also available as a full spot profile, a full PAR, or a full PARNel fixture.
To learn more or schedule a demo, visit etcconnect.com/s4wrd-color.