How do you teach lighting design without any lights? Thanks to the COVID-19 pandemic, educators around the world have had to quickly and creatively shift their classes online. One such story comes from Clemson University in South Carolina, where lighting instructor Tony Penna faced a conundrum as the final project for his introductory stage lighting class approached.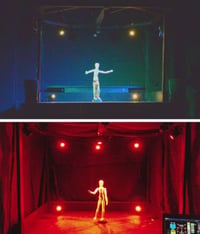 "The final project for my lighting class is called 'The Lighting Concert,' " explains Penna. "My students select a song and design a sequence of cues to go with the song." The project is the practical culmination of a semester spent focused on the fundamentals of script analysis, design and theory.
"Under normal conditions, when we're all in the same room, I have a small lighting rig. It's a small-scale stage with a 12-inch, poseable manikin in the center, and it's surrounded by a ring of RGBW LED lights. The students play the role of LD, while I or one of my advanced lighting students serves as programmer. It really challenges the students to explain their lighting ideas."
Now, with remote-learning in place, the students had no light lab or theater in which to work. Forced to reinvent, Penna decided to move the project to a virtual venue: the Mind the Gap show file.
A virtual light lab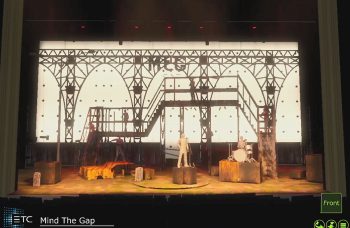 Mind the Gap is a free Capture visualization file created to accompany Eos training videos, classes, and workbooks. Because it includes a concert-like setup and a rig of moving lights, Penna decided it would make an excellent virtual light lab for the students' final lighting designs.
Luckily, Penna's lighting students were unusually well-versed in working in virtual space. Of the 15 members of the class, only one was a traditional theatrical lighting major. About half were computer-animation graduate students fulfilling a core requirement for Clemson's Digital Production Arts program, and many of the remaining undergraduates in the class were also Digital Production Arts minors.
Typically, Penna steers away from tying his teaching too closely to any one piece of technology. "I explain to them at the beginning of the semester: 'I'm here to teach you how to think,' " he explains. "When they get jobs at these animation houses, they're going to have to learn their proprietary software, which I cannot teach. But, if I can teach them how to read and analyze a script and make artistic choices, then that's something that they can take with them."
Eos programming boot-camp
Now, however, Penna needed to quickly bring his students up to speed on Eos programming so that they could complete their final projects.
"I had to put them through a pretty rigorous boot camp, because I left it to them to do the programming on their own," he explains. "I had to teach them about recording cues, changing fade times, setting levels, changing colors – so over the course of several class periods, I shared my screen, and I showed them the Eos software."
Students did their programming using the Eos ETCnomad software, which is free to download and use offline on PC or Mac. With the ETCnomad USB key, your Mac or PC becomes a full-fledged part of your ETC theatrical lighting system.
Penna added snapshots to the show file he distributed to students to make sure that everyone could keep their screens synced up during online programming lessons. He instructed the students to turn on the Auto-Mark feature in the software in order to smooth the learning curve on working with moving lights.
With the supplemental aid of the online Eos training materials and weekly, one-on-one Zoom meetings, his students quickly picked up the necessary skills for the project, Penna explained. "It has also been great for me to practice programming!" he added.
New tools, new challenges
Of course, the visualizer wasn't a perfect replacement for the light lab.
Things that may have been easy to spot in a dark room full of real light sources weren't always so obvious on the screen. The visualizer's depiction of ambient light, for example, caused an odd design quirk to appear in many students' projects.
"Even when there were no lights on in the visualizer, you could still see pretty clearly," explains Penna. "The backdrop, in particular was pretty bright." Penna was used to looking at lighting visualization software, but his students were not. "In my mind, I was calibrating the cyc to be completely dark unless there were lights on it, but a lot of times students didn't turn on the cyc lights because they could already see the cyc."
There were also technical difficulties to overcome. Students had to figure out how to best record videos of their projects, a topic which occupied a long discussion thread on the class's online learning management system. Penna also had to reassure them that they wouldn't be docked points for any flickering or jumping that occurred as the visualizer refreshed.
"In some of the videos the lights and the music weren't perfectly synced up, and I don't know if that was a problem with the computer's video card or the student's timing on hitting the go button," says Penna. "I had to take certain imperfections with a grain of salt, because we're all trying to figure out how to function right now."
A new template for teaching?
Despite these challenges, Penna was pleased with the work his students did on the project. He even said he might continue to incorporate virtual design projects into the curriculum even after the need for distance-learning has passed.
"In our theatre building, we ran out of space about 15 minutes after it was built," he explains, adding that a virtual light lab requires much less setup in a shared classroom space. It also gives students more individual design time, and lets them work with a more complicated rig. "We can spend more time building cues, and multiple students can be working on it at the same time."
Many of Penna's students agreed that the project was valuable. "Once we understood the hardware side of lighting, using the visualizer was a great way to make up for the restrictions of a small theater," one student reported on an end-of-semester questionnaire. "Because we could work independently, I think it really allowed a lot of students to explore their most creative ideas."
"The visualizer really helped expand the scope of what I wanted to do with my design," another student agreed. "The digital nature of it allowed us to incorporate a lot of new lights that wouldn't have been accessible in our physical environment, and I honestly can't imagine my design without them. Although I'm a little disappointed I couldn't see my design displayed on a real stage, I'm really glad we still got to do this project regardless."
"I got chills when I watched the finished product," a third student added.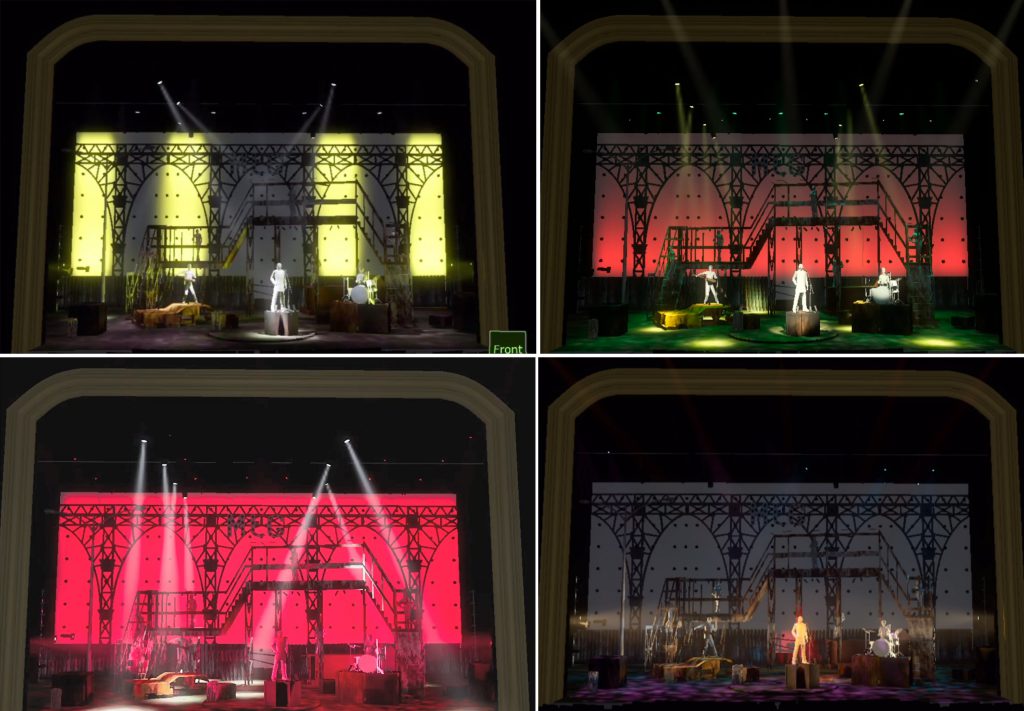 While it couldn't replicate the experience of seeing real light on objects in space, Penna found that the virtual light lab still provided his students with the most important thing: an opportunity to create, share, and talk about lighting and art.
During their weekly Zoom calls, each student would show Penna the cues they'd built so far. "That opens up a discussion about 'why did you choose this color' or 'why did you choose to reveal the lead singer like that with those kind of shadows?'" says Penna. "There's still a discussion about the aesthetic elements of the project."
---
Explore your own virtual light lab
In the time since Penna assigned his class project, ETC has also developed the Augment3d Light Lab, a custom show file that lets users set lighting positions, intensity, colors, and breakup patterns – all without prior knowledge of Eos or Augment3d. Learn more and download the file here.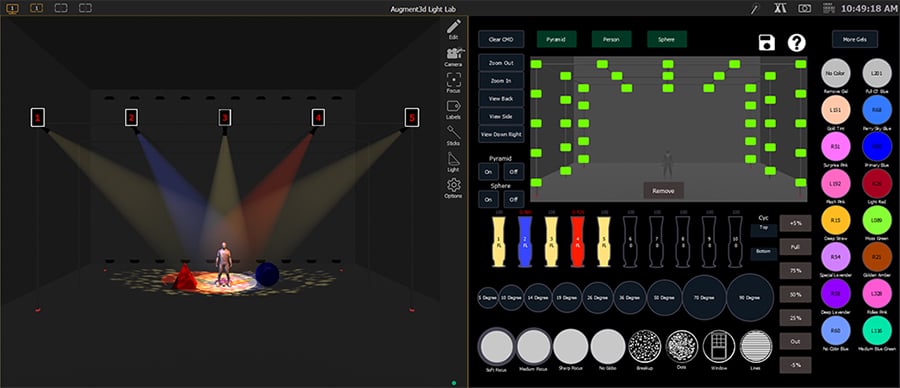 Downloadable Eos Training materials – including the Mind the Gap show file that Penna used with his class – can be found here.
Plus, be sure to log into ETC's Study Hall for all the latest talks, seminars, trainings, videos, and learning materials.
---
Do you have your own stories about remote teaching and learning? Share them in the comments!