It's easy to picture Paul Luntsford, the dynamic founder and principal of PLA Designs in Portland, Ore., in work boots and hard hat on the jobsite checking measurements.
There are designers and system integrators who do renderings and there are those who relish the construction phase of any project. Luntsford is proud to be among the latter. "Our company culture is based on the concept of actually being able to build what we design – it's a gritty creativity that keeps us on task and on budget," he says.
Given his background this is hardly surprising. Raised in the middle-class suburb of Monterey Park, Calif. he describes himself as an "unintentional hybrid" who studied architecture and engineering within a family who loved theatre, opera, and the symphony. Fresh out of college at twenty years old Paul joined a Los Angeles architectural firm and was told by a mentor: "We're going to change people's perception of space with what we do with lighting."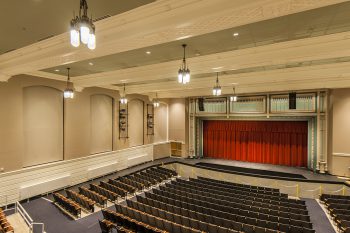 Paul and his firm were considerably ahead of their time (the late '70s), crafting huge themed retail environments – including an Iranian city for the Shah that was never completed. In 1976 he met his wife Penny. Her older brother sang light opera and roped the young Luntsford into renovating an old Pasadena theatre. "All I did was install connectors, but I watched lighting designers and rehearsals – I became hooked. This was way more exciting than themed buildings!"
Tired of "getting my car broke into in LA," he answered an ad for a lighting design job in Portland, took the job – and then found out the company only worked on water treatment plants and paper mills. "It was the worst job of my life – I had to get out." He escaped into an electrical engineering company who did projects all over the Pacific Northwest. "My boss did all the electrical stuff and they let me do the design."
Long before CAD and pre-viz software, he drafted with pencil and paper and was assigned as site engineer for the 10-story downtown Marriott. It was a life-defining moment. "Suddenly this college boy was marinated in the pressure cooker of how buildings are built. After a year I had a deep knowledge of HVAC and the order in which things have to happen – it was the perfect education."
In the evenings he kept the theatre bug alive working as a designer for local shows, and in 1986 he started with Stagecraft Industries in Portland. While there he created a design/build division to coincide with the new wave of mega-churches, theatres, and TV studios.
By 1994 it was time for a change and, like so many before him, started a design company in the basement of his house. After 18 months, his wife's dreams came true and he moved to "teeny" office premises. The big churches were booming, PLA Designs was off and running and a deep relationship with ETC was formed. "Like many designers I was immersed in Strand. The local ETC rep would bug the heck out of me to give them a try. I finally used them for a small school job and have never looked back."
Luntsford is proud of the team he has assembled. "Robert Smulling, ASTC in our Seattle office is a huge asset and our six-person team in Portland all have colorful backgrounds. They are multi-talented people who bring a lot of rounding to projects." Paul and his team have grown the firm to handle all aspects of theatre design, for space planning, rigging, hoists, seating, lifts, flooring, thanks to the combination of experience and education that each bring to the whole.
Matt James has 20 years with the company and takes care of administration. Designer Chris Ochocki (the "Renaissance Man") is a principal designer who has 12 years tenure. Gregg Long returned to PLA this year to spearhead the transition to the Autodesk Revit software program. Luntsford is excited by the company's adoption of Revit drafting software. "It is a total game changer. It shows objects as they actually appear and results in fewer change orders and puts us on the same page as architects and contractors. ETC has been incredibly helpful to us with implementation."
Luntsford is especially appreciative of the wide variety of products and price points in ETC's catalog. "ETC's products allow us to be creative when the budget is tight – they come from a practical and useable place."
To learn more about PLA Designs and their impressive portfolio, visit PLADesigns.com