When guests arrived at the train platform for a ride on The Polar Express this holiday season, they knew they were in for a magical evening — but chances are they never thought about the technical challenges that come with mounting a show on a moving train …
"The Polar Express ride is like Broadway on train," explains Guy Rhodes, lighting designer for the show. "We deploy a complete theatrical lighting and sound system in the luggage racks of each car, and treat the show as we would a show in a proscenium space. We have a full crew, including myself on lighting design, a sound designer, props designer, costume designer, two stage managers, and multiple production managers. In one small train car."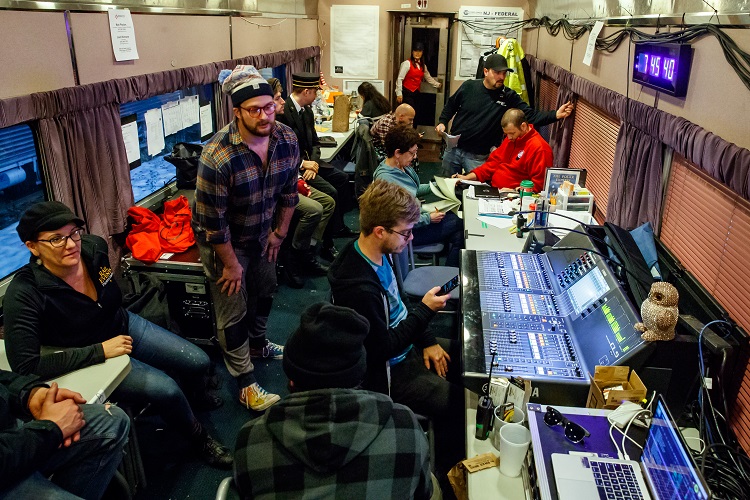 Guests of the show, based on the well-known children's book and film, are taken on an hour-long train ride and treated to a live performance in the aisles of the train.
Rhodes and his team started researching the lighting in July for an opening the second week of November. And because of the limitations of time and availability of the train, teched the show ahead of time in a mock train car they built in a warehouse in Colorado. This enabled Rhodes and his crew to finesse the show in a relaxed environment, as opposed to years past when they fought against time and space. "When you throw a railroad into the mix, everything is just compressed. You lose the time to fine tune and you're always rushing," Rhodes explains. "Lots of quirks come from producing a show and doing technical theatre on a train."
That quick timeframe and quirky environment also made ETC an easy choice for his lighting needs. "Triggering lighting cues off Eos was a no-brainer. It's my go-to platform in theatre, musicals, and dance, so I knew that working in such a rigid environment would be a natural fit," says Rhodes. He also needed a system with which the local techs at all four locations would be familiar. Eos was the answer.
The iRFR app was also extremely helpful in the tight space. With iPad in hand, Rhodes could walk down the train during tech and load the cue stack without lugging the console around. "Polar Express has forced us to up our game on technical knowhow," says Rhodes. "It's unlike anything I do during the year. Any technology we can get our hands on to make life easier is great. Our electrician even already had the app on his phone."
If the looks on the passengers' faces are any indication, it looked like another great year on The Polar Express.