As the largest outdoor musical theatre in the United States, The Muny amphitheater in Forest Park, MO has been entertaining St. Louis-area audiences since 1919. This summer, as it embarks on its second century of shows, it looks forward to showing off a brand new lighting control system thanks to a large renovation … and a little help from ETC.
In 2018, The Muny announced its plans for a two phase overhaul of the 100-year old theatre. With $72 million raised so far, phase 1 included a complete rebuild of the stage, renovations to backstage areas, and technical upgrades not possible before the renovation. But updating an older theatre, not to mention one the size of The Muny, came with its own unique challenges. "I'd say our biggest challenge was keeping with the history and mission of the theatre," explained lighting designer and renovation consultant Rob Denton. "We took what we've learned over the years—the challenges and the successes—and used that knowledge to set up the space for success."
The theatre is now home to several ETC products, including Eos Ti, Gio, and Gio @5 consoles along with an Eos RPU, Net3 RVIs, ETC networking, Paradigm, PowerSafe company switches, and CueSystem. The upgrade was not only a major improvement in technology, but also brought major power savings as well. "Now that we have fiber data distribution along with DMX, we're able to break away from traditional dimmers and use a fraction of the power," Rob said.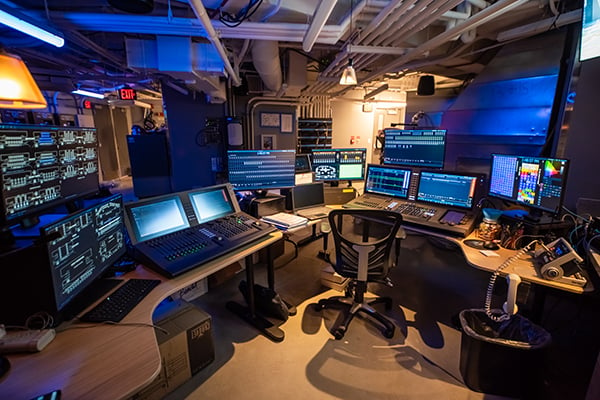 Another big challenge and consideration for The Muny tech crew is time. The theatre typically runs a show for seven days, is dark for one or two, then techs the night before open with a final "tech" (called sweat tech) on the day of opening. The crew have four and a half hours to tech, and only four hours to rewrite lighting cues if needed. "It was important to find solutions that could support, and improve, our day to day operations," said Rob. "The way the ETC consoles are laid out, how they communicate with other departments, plus the flexibility they offer with magic sheets allows us to tech a show in the limited time we have—and to do it well."
Updating the older equipment presented another opportunity for The Muny to connect to the community. It donated two complete lighting systems, which included Ion consoles and ETC dimming systems, to area high schools who are involved in the organization's Technical Theatre Training program.
The Muny broke ground on the renovation in August of 2018 and completed phase one in May 2019—just in time for opening night of Guys and Dolls on June 10. ETC hopes luck will be a lady to both the cast and crew during their 101st season and beyond.
Photos by Phillip Hamer