The name Jands has long been synonymous with all things production in Australia.
Founded in 1970, under the leadership of current CEO Paul Mulholland the company has become the major distributor of professional audio, lighting, and staging products. Now, like ETC itself, Jands finds itself pushing beyond theatre into other markets like architectural control systems. That's what brought application engineer Simon Tye to the 2018 international Workshop in Madison, where he was on a mission to better understand ETC's architectural systems. "I grew up with theatre lights, consoles large and small, and am still getting my head around lighting non-theatrical spaces," says Tye.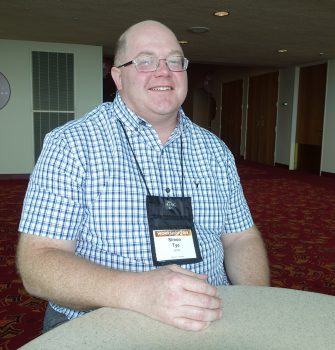 Growing up in theatrical lighting started "turning lights on and off for high school plays" followed by four years at the Sydney Opera House and 13 as a touring electrician with the Australian Opera Company. The desire to have a balanced family life got him off the road and into Jands, where his job description includes demoing new gear, designing systems, filling out tenders, and "talking to customers about what they need."
Tech trends in Australia follow the standards set by UK touring shows, leading to the dominance of the ETC Eos family of consoles in Australia's five major cities. Tye likes the multi-screen displays and calls it "a really good theatre console." He should know – he trained on over 17 different consoles from competitors like Strand, to ETC's own Obsession, to the Eos Ti.
Tye hopes that the Arts Centre Melbourne's recent purchase of 100 Source Four LED Series 2 with Lustr arrays will encourage others to go with higher-quality LED fixtures. "We get beat up in the market by low-end offshore LED fixtures. With ETC LED's you get pure white when they're on at full – with the others it looks like vomit," says Tye with classic Aussie candor.
A man on a steep learning curve, Tye admits that after two days in Madison he has a firmer grasp of the Paradigm architectural system's layouts and features. "There is no doubt that this is where the growth lies, and I have to grow with it – our last six months have been all about lighting churches and town halls." In this he echoes the Jands mission statement:
"Providing innovative yet reliable solutions to the many problems faced by our customers is fundamental to growth."