At Academy Lighting Consultants, founder and president Jeff Engel sticks to a winning formula that gives control to their ten designers and security for their clients: great talent and a deep pool of knowledge.
"At Academy we can always say yes to the client because our designers can draw on the vast experience from within the group for help." Lamenting an industry that "was run by MFA's in the '70s and '80s but is now run by MBA's," he adds: "We're also nice people to deal with."
Despite (or perhaps because of) his disdain for MBA's, Engel and his partner take Jeff Calderon take active roles in the company's daily business. And Calderon relates, with a bit of accounting glee: "With all our LD's shows, our high rental volume gets us great deals on gear from vendors like PRG, 4Wall, and Acey Decy." Of course, all this success – and the ensuing work-related travel – does have its drawbacks: "Last year we couldn't get everyone together for our Christmas party," Engel jokes.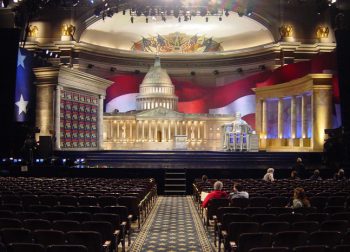 Another of Academy Lighting Consultants' success come from their deep roots in the game show biz. Engel has been with Jeopardy and Wheel of Fortune almost as long as the familiar cast members. Engel takes care of crew, equipment, and design when Jeopardy and Wheel shoot all over the world, with recent trips to Hawaii, Florida, Switzerland, England, and Ireland. He has also lit the SAG Awards for nine years – and has received two Emmy Awards of his own, along twenty-three nominations.
But Academy Lighting is more than just game shows. Their client list has an enviable diversity, with hundreds of combined show credits. "Turn on broadcast, cable or streaming TV any time and you are likely to see some of our work," says Calderon. He stresses that Academy Lighting Consultants is not an employment agency. Their lighting designers bring their client's shows to the company. "Occasionally, we even help designers like Jeff Ravitz and Lee Rose, who are not part of Academy Lighting Consultants, when they are double booked, or need to payroll a union crew or provide equipment packages," says Calderon. "When a lighting designer needs help they call a friend – we want to be that friend."
Engel and Calderon bring their own impressive resumes to this dynamic company. Calderon grew up in New Jersey and studied theatre at Brandies University. A teaching opportunity brought him to Saddleback College in Mission Viejo, Calif. where he ran the lighting program. Academy Founder Carl Gibson noticed his work, and Calderon joined up with Gibson, Jeff Engel, and the rest of the group in 1985, eventually becoming Vice President and co-owner when Gibson retired in 2002. Calderon lit the iconic Soul Train at Paramount Studios from 1990 to 2000. He won one Emmy for the show and was nominated for four times.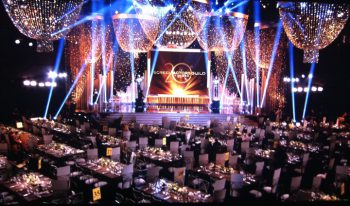 As the company has grown, both Calderon and Engel stay focused on many of their long-time core clients. Calderon lights Divorce Court and America's Funniest Home Videos. "The ETC Ion console is perfect for game shows like Divided, Emogenius, Snap, and Winsanity – we max out the consoles with four touchscreens, a Mac Mini and a closed-end wireless network. Many of the shows are cued from gaming via MIDI connection, but we still need hands-on access, and the Ion works perfectly for this application," says Calderon. The Source Four LED Series 2 Daylight HD is his key light of choice for these and other game show designs. Originally a fan of Berkey Colortran (you might need to Google that one!) and Strand, he was won over by ETC's optics, dimming, control consoles and their outstanding field service and support.
The rest of the designers with the group also have their hands full. Academy's designers use ETC's equipment from their entire line of fixtures, dimmers and consoles extensively on all their shows. Robin Gray headed this season's lighting design at the Hollywood Bowl along with Kim Killingsworth, Patrick Schulze, and Jenny Bloom. Sean Post is on the set of the Steve Harvey show, Steve as well as Pickler and Ben in Nashville. Jenny Bloom is lighting for Red Zone, RuPaul's Drag Race and All Stars (and occasionally covering on The Talk). Patrick Schulze recently designed the NYX Cosmetics Face Awards and Jim Carne is on the game show set of Funny You Should Ask in Culver City. Jessica Stewart who has been with Academy since she was a teenager handles the intricate juggling of schedules and logistics.
"The company has a real family atmosphere," says Calderon. "We don't have flashy offices and we genuinely care about our clients."