The entertainment industry abounds with "right place at the right time" anecdotes, and lighting designer Tom Beck is the first to admit that he caught a lucky break early in his career.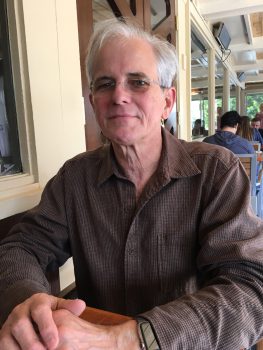 A native of North Carolina and student at the UNC School of the Arts, he moved to Boston in 1974 to complete a fine arts degree. He was getting by sweeping floors, installing pin connectors and coiling cable at Tom Fields Associates when he got the call to drive some lights up to Salem, Mass. where a new artist named Bruce Springsteen was performing.
"I hit it off with Marc Brickman (first lighting designer for Bruce and later Pink Floyd) and found myself on the lighting crew and finally as Lighting Director on The River tour," Beck recalls.
Beck's opera singer father had convinced him he needed a back-up plan, so that the young Beck wouldn't end up like his father's starving artist friends. Beck looked at rock 'n' roll lighting and saw in it the idea of a plan that would involve taking his art training and "painting the stage in light." With that mindset, he dove in.
From Brickman he learned that, "regardless of the size of the lighting rig, great design is all about impeccable timing and a sense of drama." As lighting director for tours with The Eagles, Van Morrison and Jackson Browne, he learned how to preserve and replicate the designer's original vision. That led him into designing his own tours in the '70s and '80s for acts like Kiss, Tubes, Yes, Rick Springfield, Pat Benatar, and Rod Stewart.
An especially grueling Rod Stewart tour of Europe in 1986 convinced him that touring was "a young man's sport" and he turned his attention to music videos and television. Enter mentor number two in the form of Allen Branton, a pioneer of MTV awards shows and an expert in making concerts look good on TV. "I had always loved film and TV," says Beck, "and I was excited to learn from guys like Allen and Kieran Healy."
Together they worked on Top of the Pops at KTLA, many VMA award shows, and the 1988 John Denver Christmas in Aspen for which he was nominated for an Emmy as lighting director. He was later nominated for Emmys for his work with Adele, Lady Gaga, Cher and The Ellen DeGeneres Show. He frequently shoots at 4800 Kelvin using CTB correction. With the huge advances in camera sensors, many TV shows can be shot as low as 10 foot-candles. Part of his success is based on his mastery of the seemingly simple close-up, which Beck confirms is anything but. "The angle of the key light, level, color and where the shadow falls are all critical to the final effect on camera. I learned a lot of that from Branton and it's served me well."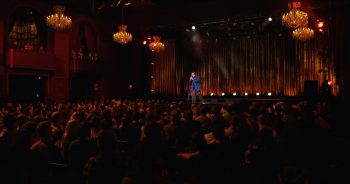 By early 2000 he was making the transition from lighting director to lighting designer with credits on Comics Without Borders, Louis C.K., Robin Williams, Joan Rivers and Patton Oswalt specials and the 39th Annual Daytime Emmy Awards. His reputation for lighting comedy led to his current gig as Lighting Designer for The Ellen DeGeneres Show. With Ellen's frequent musical guests he gets the chance to re-visit his rock 'n' roll roots. Ever keen to learn new techniques, Beck would love to light a single camera episodic show in the style of Homeland or Breaking Bad. Producers, take note.
ETC Source Four LED profiles and PARs are his go-to fixtures for key lights and washes Beck says, adding, "I am especially pleased that you can now get a full range of accessories" like the CYC and Fresnel adapters. Still, there is always room for more gear, and at the top of his ETC wish list is a product to replace the aging stocks of Vari*Lite 1000 fixtures that are a mainstay of local studios and rental stocks. "I would love to have a shuttering fixture with variable CTO and diffusion with the latest ETC LED engine," says Beck. "See what you can do!"