In 1963 the Beatles invaded America, a gallon of gas cost 25 cents and Acey Decy Lighting opened for business in Hollywood, CA. Founded by Cliff and Susan Renfro while Cliff was a gaffer at Paramount Pictures, the company supplied lighting and grip equipment to The Merv Griffin Show, The People's Choice Awards, Solid Gold, and a host of variety shows. Their name is a reminder that many of the studios operated both AC and DC voltages on their massive stages.
Carlos Sandoval started working for Acey Decy in 1978 as a 16-year-old kid, spending his weekends coiling cables and installing connectors. Soon he graduated to electrical setups and trips to Las Vegas in a five-ton grip truck. Now, 39 years later and having worked in every department, he is Acey Decy's Vice President of Operations. It's year-end tax time and Sandoval sits behind mountains of invoices, PO's and inventory stock sheets. "We check every piece of paper that comes into this building," he explains. "In 1980 we went through a Chapter 11 and now we are very thorough."
President Don Djomeh joined the company during this difficult period and remembers, "It was tough – we had no vendor credit and cash was really tight, but we slowly worked our way out of it." A native of Iran, Djomeh was the GM for General Motors' overseas division, a position that led to him spending time in Flint, Michigan and later at the Van Nuys plant. Answering a newspaper ad in 1980, he brought his electronics skills to the struggling company. "We were forced to build our own small controllers and dimmers – it was quite a challenge."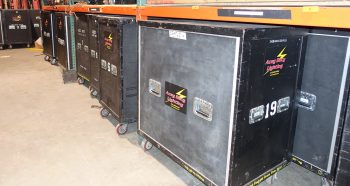 The same dimmer technology was later used by Strand Lighting in 1991. They were an early adopter of LMI dimmer racks and still own an impressive number of ETC Sensor Rolling Racks, many of them converted to provide distribution for LED technology. The company's huge inventory is a living roadmap of the changes in TV lighting. ETC's Source Four LED Series 2 Lustrs, D60s and ColorSource fixtures sit alongside rows of 20k and 10k Fresnels and the HMI's that were once the go-to solution for designers. "We keep these because not every lighting situation has an LED solution. Some of our customers go back 30 or 40 years and still favor the old ways," Sandoval explains.
It goes without saying that virtually every generation of ETC console is well represented. There are no mergers, acquisitions or plans to open satellite offices for this tightly run company. While others chase the filming incentives, Acey Decy is grateful that California is slowly attracting production back. "We are still trying to perfect what we do here – we're not ready to divide our energy to another location – this is where the production talent is," says Sandoval, "but it could happen in the future." In a vibrant local TV market they have been kept busy with season three of Casual and season one of Sigmund and the Sea Monsters and the MTV Movie Awards red carpet. Their distinctive grip trucks are a familiar site on local film and commercial shoots around LA.
Today Acey Decy occupies a unique place in the landscape of lighting companies in the five-square-mile region around their San Fernando warehouse. Not only do they sub rent to their competitors, they have an abiding reputation as a training ground, some say a university, for aspiring grips, gaffers, and lighting designers. "Hundreds of successful technicians and designers have worked in our shop or on crew," says Djomeh. "When they get famous, they come back and rent from us – we are like a family to them." Never far from his automotive background, Djomeh still indulges his passion for older cars. Always on the lookout for that perfect Mercedes 230 or American muscle car, he likens ETC Source Four fixtures to "a Sherman tank." He laughs, "You won't believe it, but we have dropped those things from 20 feet and they still work."
*****************************************************************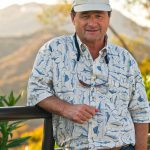 Marshall Bissett grew up in Central Scotland and developed an early interest in theater at Perth Repertory Company. After graduating with an MA in English and French from St. Andrews University in 1970, Marshall studied theater direction at the prestigious Old Vic Theatre School and worked as a production manager for every small regional theater in Britain. At the Young Vic in London, he worked on the original productions of Joseph and the Amazing Technicolor Dreamcoat and Tom Stoppard's Rosencrantz and Guildenstern are Dead. Lured by the promise of foreign travel with per diem, Marshall worked as lighting crew chief for Brian Croft's ESP LIGHTING. He toured with Chicago, The Beach Boys, Neil Diamond (two tours of duty with Patrick Stansfield), the Rolling Stones, Bette Midler (with Chip Monck) and Bob Dylan. In 1978, he was Lighting coordinator for Paul McCartney's Concert for Kampuchea. In 1980, he moved to Los Angeles to run the lighting division of TFA until 1983. There, he organized the concert lighting sequences for This is Spinal Tap. In 1983, he founded TMB, a supplier of lighting equipment and production supplies worldwide. He directed an award-winning production of Oh! What a Lovely War at the Knightsbridge Theatre in Silver Lake. He retired from TMB in 2014 and is currently working as a freelance writer for the concert lighting industry.