When Texas Tech University wanted to create a new sports broadcast studio to cover its robust sports programs, the design team turned to Horton Controls Group to help them choose fixtures and lighting control for the space. Jason Foster, a member of the theatrical outside sales team at Horton Controls Group, was happy to help. Here's his write-up of the design philosophy and install process.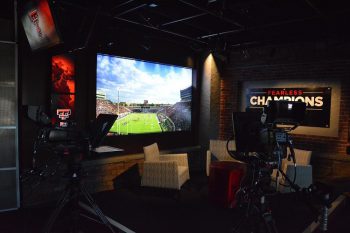 When we first met with the University's broadcast team on the design for their new Sports Broadcast Studio, ETC was already on the forefront of their thoughts. They had a rough vision of what they wanted from a layout standpoint, but their primary concern was that the entire studio have a clean "cool" look to it. Not just for what was on camera but for what was in the grid as well.
The studio, housed in the United Supermarkets Arena, was to be located in a glass enclosed room off the main lobby. This is a high visibility area and the design team wanted to make sure that the lighting fixtures used had a sleek theatrical design while still giving them the functionality they required for their broadcasts. The second they saw the new Source Four Minis and Irideon FPZ fixtures, they knew that this was the look they wanted for their studio. We worked closely with the design team at the university and ETC to develop the equipment lists, track and fixture layouts.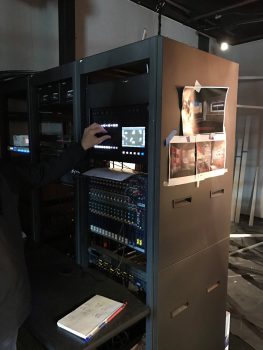 The rig is comprised of ETC Two-circuit DataTrack, loaded up with a complement of zoomable Irideon FPZ 3000K fixtures. Also hanging from the track are some silver Source Four Mini LED fixtures on extension arms that drop them into the camera view for the wide-angle shots. The control system for the studio is simply a rack-mounted ETC ColorSource 20. They liked that the console had a visual mapping feature for channels, which allowed the team to map their fixtures on the console corresponding to grid locations for fast and easy selection. The preset functionality gave them the ability to quickly change from lighting the interview area to the reporting set on the opposite end of the room. It's a simple, powerful, stylish solution that works flawlessly for Texas Tech.