Education has been at the center of every industry job David Fox has ever held. Starting with his time as an ETC dealer where he trained end users, through his days at UCLA teaching grad and undergrad students how to find their way around a lighting rig, and on to ETC- first in phone support and now as a training and documentation specialist, it's clear that he's passionate about sharing his knowledge of the theatre.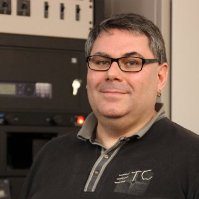 "I take the 'craft' in stagecraft very seriously," says Fox. "What we do requires specialized knowledge, artistry, and technical skills. I believe that everyone who calls themselves a technician has a certain level of responsibility to keep learning and to share what they know."
As an ETC trainer, Fox spends a fair amount of time teaching and traveling. He develops and presents in-person training sessions across the world on a variety of topics. And while there is something to be said about the quality and effectiveness of training in a live, hands-on session, it's not always the most cost or time-effective way to share information.
"It was as we were preparing for the Paradigm release that I was traveling nearly every week. I'd get to a site, train 8-14 people, and fly home again. I'd see my family for a few days before I was on the next flight out to repeat the same training for another group of 8-14 people. With the goal of training over 300 service providers, it seemed inefficient, but it was the only option we had."
In 2003 the ESTA Board of Directors created the Entertainment Technician Certification Program, or ETCP and from fairly early on, David Fox was there to help get the word out, and find ways to get ETC's live training sessions accredited for continuing education points. If you're not familiar, this is an organization that is centered on the safety and training of those who work in the live event industry. As ETCP grew, so did the advancements in online training technology.
In 2013, Fox started discussions with ETCP's Certification council organization about offering some of ETC's in person training sessions as accredited online courses so their members could meet the continuing education requirements needed to maintain their certification. They were completely on board.
He hoped to have his first course launched within a year but, as we all know, things rarely move as quickly as we'd like. Countless hours were spent creating content, and recording and editing videos. Below is a photo of the recording studio setup in his home for some of the off-hours recording sessions. (Yup, that's a cat carrier under the cardboard box supporting the mic.)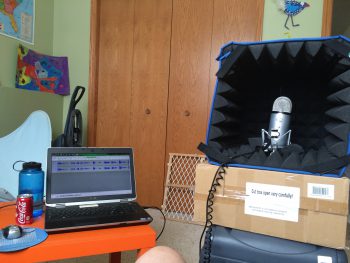 Additionally, ETC needed to implement a robust online learning platform to host the classes. Now, nearly four years later, Fox is proud to have been part of the team to make this all available. Currently, in addition to console training and service provider prerequisite classes, we have four ETCP recognized courses available through LearningStage, ETC's online training platform. Each takes about an hour to complete and is worth a single point of renewal credit.
"Instead of training a dozen people in a week, we can now reach hundreds," says Fox.
The class model is a little different than other online ETCP continuing education options. Many are setup as a package of courses that can be worked through one by one. While they are worth multiple points, they come at a much higher price tag.
"We'll continue to play with the format," Fox says. "If we need to adjust the price point, we will. If we find that people are asking for classes that we don't offer, we'll look into it. That's what's great about our industry. It's small enough that we can have those conversations and adjust accordingly. Our main goal is accessible continuing education."
If you have comments, questions, or suggestions for David, he'd love to hear from you. He can be reached at david.fox@etcconnect.com.