This was definitely a CUE to remember. Our pre-console training attendees made it into Madison on Wednesday with little issue, but that was one of the only predictable events over the next couple of days. Storms blew through the Midwest on Wednesday and Thursday causing flight after flight to be delayed. And only about 50% of our attendees made it for the opening reception on Thursday evening.
When people did finally get to the Midwest, it wasn't without issue.
Two CUE attendees met as they were stranded in the Chicago airport and decided to share a rental car and drive the three hours to Madison by Friday Morning.
Several attendees went shopping for new weekend wardrobes when they arrived because their luggage didn't.
And just when we thought we were on the upswing, we got word that the power plant a few blocks from the convention center had started on fire. Half an hour later the convention center lost power and we were forced to devise plan B.
In true theatre fashion, we improvised. After all, the show must go on.
Plan B for CUE 2019
All attendees were directed to the Grand Terrace where a wall of windows provided the light for an impromptu keynote presentation by marketing vice president, David Lincecum.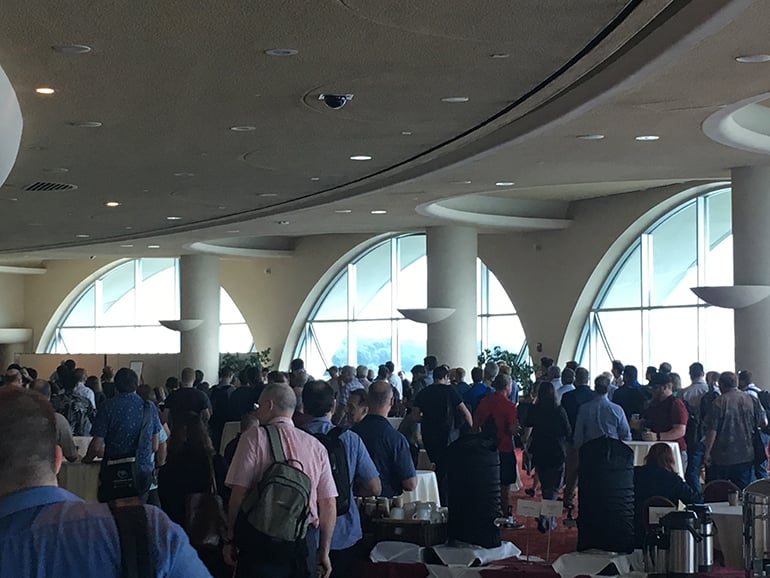 Meanwhile, ETC staff called the factory and figured out a way to move the entire conference 20 miles west to the headquarters building. It was nothing short of a miracle how everyone banded together, created meeting spaces and dining areas in less than two hours.
By 11:00 am, everyone had been safely moved to the new CUE 2019 site in Middleton, WI.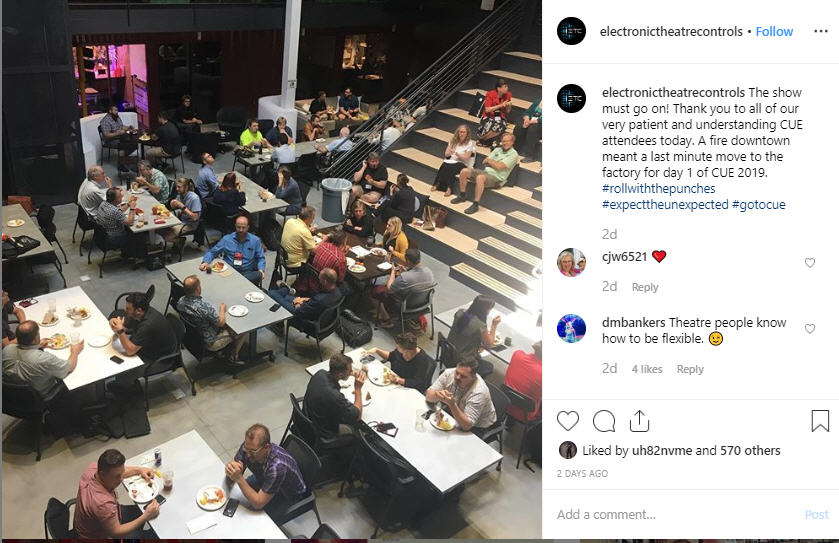 Lunch consisted of pizza, subs, sandwiches, and McDonald's burgers and fries. Anything our onsite catering staff could come up with to feed this unexpected tiny army of CUE attendees.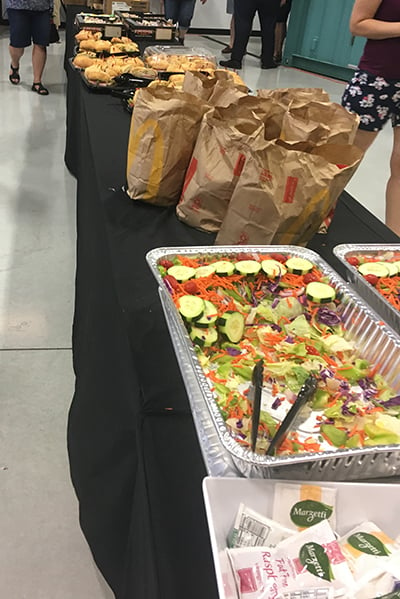 A huge thank you to everyone who rolled with the events of the day!
We topped it off the day with a keynote presentation from Disney Lighting Designer, Ken Lennon in Town Square – a keynote that was originally supposed to happen at 8:15 am that morning. By the time 6:00 rolled around we were back on schedule. The evening picnic at ETC brought local food trucks, tech games, and the highly-anticipated swag store to our guests.
Smooth Sailing
Saturday morning we were back at the convention center (with power) as if nothing had ever gone wrong. Two more days of classes, keynote presentations by Wendy Luedtke and Mike Wood on color perception, and an evening of perfect weather for exploring Madison.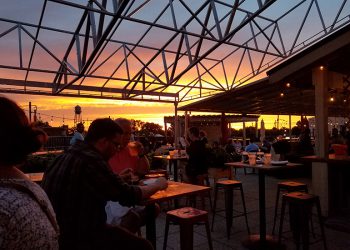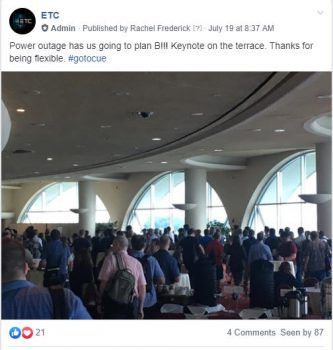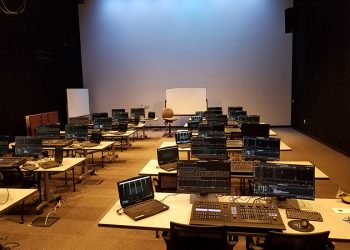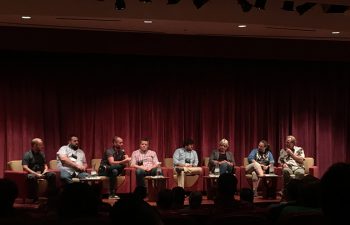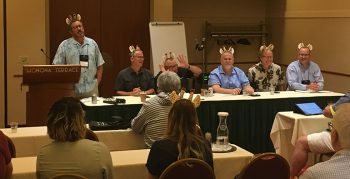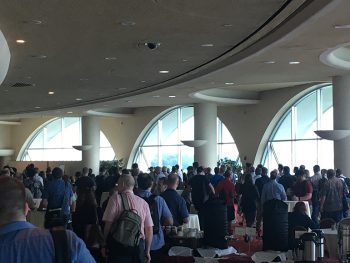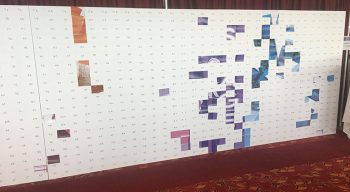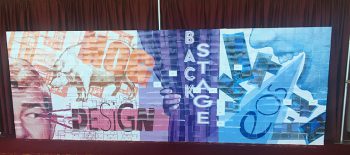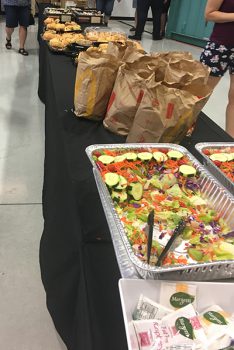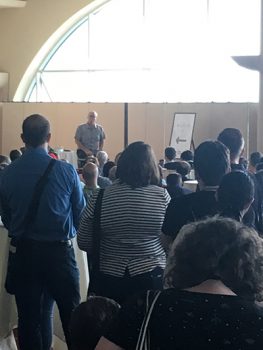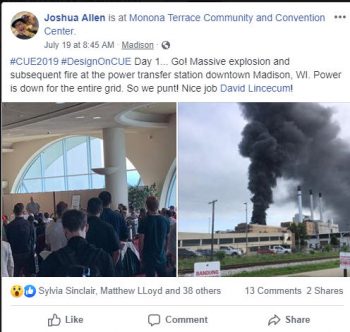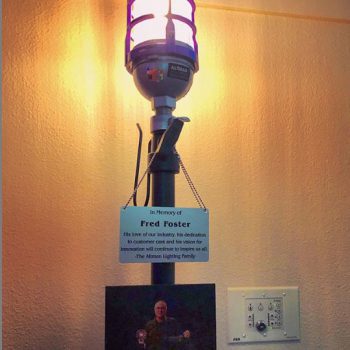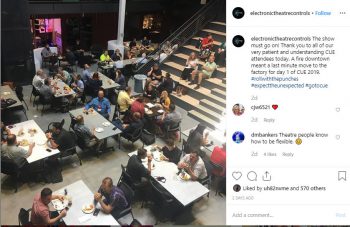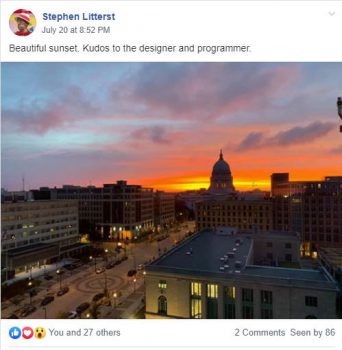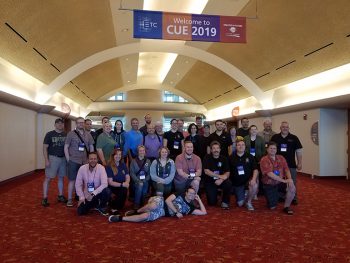 We wrapped up the entire crazy weekend with an awards ceremony and a surprise performance by the Fuzzy CUEtips Band singing what will go down in history as the CUE 2019 Anthem – sung to the tune of Billy Joel's We Didn't Start the Fire.
Here are the lyrics for anyone who would like to relive that moment over and over again.
CUE 2019 Anthem
Storms delay Thursday night
People had to miss their flight
CUE starting anyway
Sorry for the rain delay
Friday morning 8am
This keynote did not begin
Ken Lennon walked away
Shook his head in big dismay
Bus ride Middleton
Thanking God they let us in
Pizza subs French fries
A whole lot of sweaty guys
We didn't start the fire
We were there to see it
We could hardly believe it
We didn't start the fire
But it hosed our schedule on every level
Afternoon meltdown
Busy people all around
Teaching classes in the hall
Looking like a crew call
RDM shakes a hand
Rigging goes up and down
Paradigm echo
Sneak your Eos out of town
Consoles Backstage
We think Fred was here today
Kenny Lennon had his say
Lots of beer to end the day
We didn't start the fire
We were there to see it
We could hardly believe it
We didn't start the fire
But it hosed our schedule on every level
CUE 2019 Videos
Several of our classes (and the CUE anthem live performance) were recorded so if you want to watch them for the first time, or again and again, here are the links.
Thanks to everyone who made the trip. We hope to see you all again very soon!