Model railways, with their enduring charm, remind us of an America before the Interstate system and airline travel. As the full-scale versions struggle to survive, their legacy is kept alive by enthusiasts who combine architectural, electrical, and scenic skills to amazing effect.
When programmer Zach Moore got the call from Laura Green of Kinetic Lighting (Glendale, CA) to work on the Pasadena Model Railroad Museum, he could not have been more delighted. "I love trains and lately I have really got into Echo programming," he said. This was the perfect opportunity to combine them both.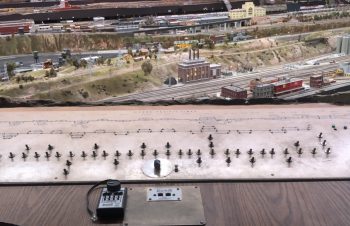 Founded in 1940, the Pasadena Model Railway Museum is a Mecca for model and railway enthusiasts from all over the world. It inhabits a 5,000-square-foot building in Los Angeles. (Yes, they know. They moved decades ago, but the name stuck.) The Museum is the home of the Sierra Pacific Lines, an HO-scale model railroad that is one of the largest in the world.
The scale of the project is impressive: the main line stretches nearly 1,700 feet (28-scale miles) between Alhambra and Zion. It takes trains about an hour to traverse under normal speeds and traffic conditions. The principle yards at Alhambra, Midway, and Zion can store about 2,000 cars. The railroad requires more than 20 operators to fully staff the yards, branch line, and industries.
Members of the Museum went to Kinetic Lighting's Annual Open House looking for an LED upgrade lighting and control solution and a dynamic way to create more colors, effects, and dimming. At first they decided to replace 14 fluorescent strips with Rosco VariColor units and control four basic looks with an ETC Echo system. But the job quickly grew in scope. Soon, Moore found himself building and programming a hybrid system.
Using an Echo button station and scene controller to send DMX signal to a Mosaic Show Controller, Moore programmed a 35-minute sequence that encompassed changes in the light from sunrise to sunset and included a wave of clouds that passes over the model. "With high overhead angles, the challenge was to create motion within the cues," says Moore.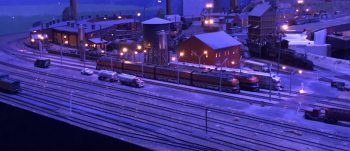 To intensify the color saturation of the sunsets, Moore introduced four new colors into the crossfade. Strobe and thunder-clap effects are triggered independently by the train dispatcher who controls the lighting and audio sequences.
Moore's background as a train enthusiast with extensive theme park experience made him the perfect choice for the job. A native of Boston, he graduated from Cal Arts, became the resident lighting designer at Magic Mountain and has worked for Universal, Disney and a series of corporate shows. "I own a couple of ETC Gios and I like to keep them – and myself – very busy."
You can read more about this extraordinary exhibit at the Railway's website http://www.pmrrm.org/