In addition to hosting the world-famous Sundance Film Festival, Sundance Institute produces a variety of programs designed to help filmmakers tell their stories. ETC is happy to once again be an Official Provider for Sundance Institute for their Directors Lab.
During the month-long Directors Lab, eight fellows work with an accomplished group of creative advisers and professional production crews to rehearse, shoot, and edit key scenes from their scripts. "They come to Sundance to do a screen test of their screenplay. Our production crews work full days, moving from one project to the next," says Ian Calderon, a longtime advisor of the Institute's.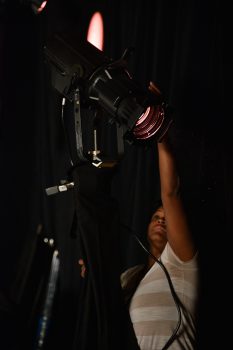 Calderon chose ETC for the directors to use because he was impressed with the high-quality and vibrant color of ETC's fixtures. "At NAB I walked up to the ETC booth and thought that their lighting tools are like paintbrushes – and knew they could help the Fellows at the Sundance Labs."
And for film crews, the physical aspects of the fixtures are almost as important as the superior light output. "The size of the fixture, the fact that they're cool to the touch, and that the load requirements are manageable – those aspects make for a dynamic set of tools for filmmakers to use. They can achieve a look very quickly, instead of taking all day for a setup," says Payne.
The Sundance Institute Directors Lab used a mix of Source Four LED Series 2 fixtures with the Daylight HD, Lustr, and Tungsten HD arrays. They also took advantage of CYC and Fresnel adaptors so directors could get any look they wanted. The equipment was used in studio environments, interiors, exteriors, and remote locations.
For more info about the Sundance Institute and their programs, please visit www.sundance.org.