Headline Productions provides turnkey services of audio, video and lighting equipment in southwest Missouri and neighboring areas; the company recently specified and installed High End Systems lighting and Hog 4 control in Connect2Culture's new indoor performance hall located in the Harry M. Cornell Arts & Entertainment Complex in Joplin, MO. Headline Productions' Van Bridges has a lighting and video systems background, while his partner Steve Eudaly specializes in the audio side of their business. Starting out with a small batch of lights suitable for modest shows, they next invested in a new d&b audio system. After word got out about Headline and their new PA, the company added a rider friendly lighting system of High End Systems SolaSpots and SolaPix, cementing their success in a regional turnkey operation.
Connect2Culture had been a Headline client for years, leading up to 2021 with the start of construction on their own PAC inside the the Cornell Complex in downtown Joplin. Connect2Culture hired the DLR group to design and lead the project, using Crossland Construction as the GC and Texas Scenic for the lighting and rigging implementation. After receiving the initial plan from Texas Scenic, the Connect2Culture board decided it would be best to future proof themselves with more than another conventional house with LED fixtures. They chose to reallocate their theatrical lighting budget to a more contemporary design with LED moving head fixtures.
Van explains, "Connect2Culture had been producing a wide variety of content, from bluegrass and rock and roll concerts to theatrical plays and performances. When creating a design, we tried to be very mindful that we needed to create a plot that could easily translate from a conventional plot - which we were able to do with fixtures from the HES Sola Series. Connect2Culture's production is headed up by Hal Robertson; they are able to be fully self-sufficient, but still bring us in to assist on larger projects and more demanding tours."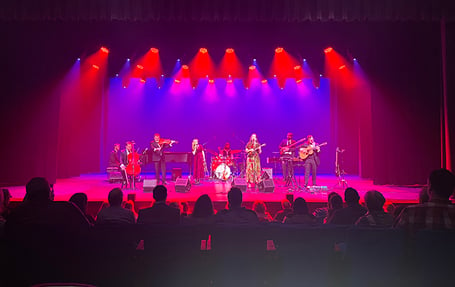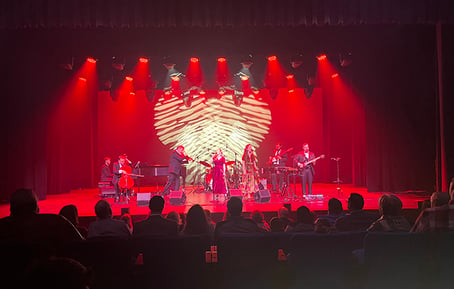 Eighteen SolaFrame 1000 High CRI fixtures were installed as the workhorse movers in the Cornell Complex. Bridges comments, "The SolaFrame series was the obvious choice for a fixture at the time - beyond moving to a Lonestar or something from the Sola Silent series. We own a small fleet of the SolaSpot 2000s, so we knew we were getting into a solid fixture from a company with phenomenal service. The addition of the framing shutters made this a no-brainer as our fixture of choice."
Another eighteen SolaPix 19 wash fixtures were also spec'd for the venue. Van says, "Headline Productions owns the SolaPix 7, which have proven to be a great, reliable light with wonderful color mixing. Given our current experience with SolaPix - knowing the noise floor, brightness, durability, and functionality, the choice was natural to put an HES mid-sized wash in this theater."
The house's network backbone is ETC Net3 with Paradigm, then controlled by the HPU as the main server and console with a Road Hog 4-21 as a remote. Van explains, "Initially, a desk from the ETC Eos line was the spec'd house console. When we moved to a moving head plot, I wanted to couple that with a console and network that we know and love, the Hog 4 system. Texas Scenic moved forward on the as-designed ETC Net3 system, from gateways to net ports. I had no issue with any of this; in my opinion it's a fairly easy argument that ETC, through Net3 and Paradigm, has the most robust and user-friendly installed network solution available today. Since we wanted the room to be fully useable without an operator at all times, I chose the HPU as the main server/console for the building."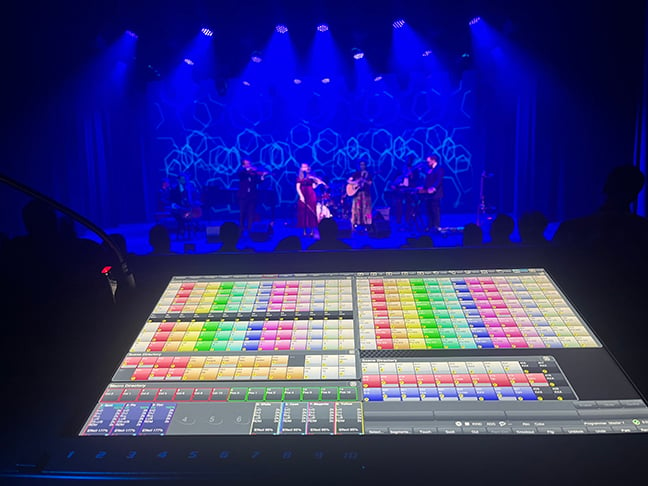 "Using the HPU also left us with more than enough universes to control all fixtures, house lights, and relay racks. With the HPU's touch screen functionality, we are able to set looks for private events with or without the Road Hog 4-21 in line. The Road Hog works as a remote console and is providing no processing power, which makes changing our control location seamless as we have Net3 and HogNet ports throughout the building. I personally prefer the Hog 4 software over others; with its stability and ease of use, it is the console for me. The Hog 4 effects engine is configured in such a way that building very complex looks is super easy and intuitive. From small shows to arenas, this console line has proven to be a fantastic tool for us."
In closing, Van says, "Everyone knows that ETC has some of the most comprehensive technical documentation on projects they are involved in. Before the ETC/HES merger we already had a long-standing relationship with HES, who also has not only amazing product support but the sales staff on the front end to make the whole process as easy as it could be. I have with 100% confidence and faith in being able to call ETC and quickly find a solution to a problem."
"All in, this project has been a continued success. We at Headline Productions, the Connect2Culture board, the donors, the touring productions, and the people of Joplin have had nothing but good things to say so far. It was a challenge for Connect2Culture to trust that a moving head package would work with all of the conventional plots they were receiving, but thus far we have been able to help produce higher quality shows because of it."
Photos by Connect2Culture and Headline Productions, Joplin, MO.