Last year, ETC Color Specialist Wendy Luedtke sat down with Senior Colorist, Rory Gordon and Cinematographer, Craig Kief to discuss the benefits of, and science behind ETC's Lustr X8 array. This array can be found in several ETC fixtures and, for a number of reasons, is ideal for the on-camera market. This article is a recap of their conversation.
Understanding basic color metrics
To understand why X8 is important, we must first understand industry color metrics. These metrics are how the industry measures light and color as it pertains to fixture output and color. And, in many cases, these metrics are what help convince customers to purchase one fixture over another.
CRI compares your light source to a reference light source. Let's say, for example, your actor is wearing a pink costume. In direct sunlight, that costume appears a certain way to your eye. Under the light of an LED source, it may appear a different way.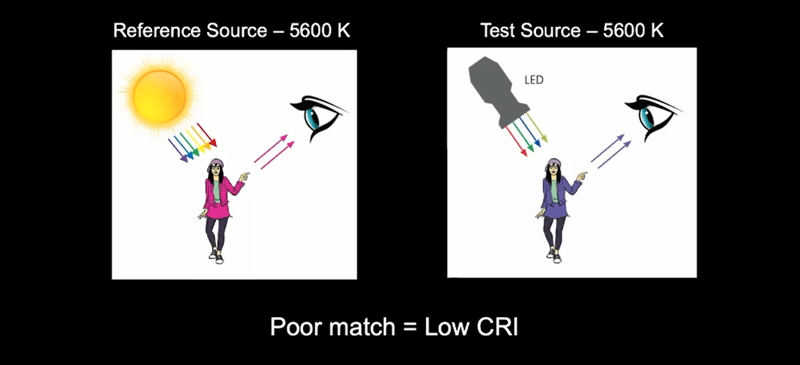 CRI attempts to give a sliding scale of how similarly the manufactured source will render colors as compared to the reference source. Simply, if you have a low CRI number, then the color rendering your light source will deliver will likely be poor.
However, the math used in this antiquated metric is flawed. The value typically reported as "CRI" or "Ra" only matches against the 8 colors shown on the top row of the chart below. As you can see, it does not take much into consideration including skin tones and saturated colors.
Additional colors have been added as "special indices" R9-14 to the CRI system as shown on the bottom row of this chart. But these additional colors are not included in the core CRI metric and are rarely reported. And again, none of these additional colors are included in the single value reported as "CRI" or "Ra".
With the wider variety of LED emitter colors in luminaires today, these shortcomings mean CRI is unreliable.

TM-30
TM-30 is another standard that compares your light source to a reference light source to evaluate how it will make objects look, and it does so with improved, up-to-date math. There are 99 samples instead of the 8 to 14 used in CRI, and there are multiple aspects of color rendering ability reported such as whether an object appears at a different saturation or the hue itself has shifted. This more robust and useful standard should be used in place of CRI.
For more information, check out this free class on Color Control available here on our LearningStage platform.
TLCI
Now let's talk about what happens when you add additional technology such as cameras and monitors. In film, there is a related, but separate standard called the TLCI, or television lighting consistency index. Other metrics try and predict what your eye sees when it comes to matching colors under a light source vs a reference. But cameras add another level of interpretation because of how color is processed before it reaches the monitor and then your eye. From reality modified by lighting fixtures, modified by cameras, modified by screens… there is a lot of data to interpret with a single color metric.
But that's exactly what TLCI tries to accomplish. For a more scientific, in-depth account of how TLCI works, we recommend reading Mike Wood's article in Protocol from 2013.
While TLCI takes an incredible amount of data into consideration, it's clear that technology has come a long way since this protocol was created. Cameras and fixtures are far more advanced now than they were even five years ago.
SSI
If that weren't enough, we're going to add one more metric option into the mix; SSI or the Spectral Similarity Index. This protocol was designed to take some of the nuances of color perception out of consideration.
SSI compares the spectral power distribution – that is, the light emitted from – your light source vs a reference light source. The place where the two diverge is calculated and a score is determined. This scale does not compare rendering of color swatches, however, but rather compares light output at every nanometer of the entire spectrum. The basic premise holds that since the reference source is known to work well on camera, close matches in terms of spectral power would also be expected to work well. If there are a lot of divergences, the SSI score will be low.
This is a wholly different approach than TM-30 or CRI, which aim to compare differences in what objects will look like. Read more in this in-depth article from the Oscars site.
To recap:
TM-30 and CRI: how does the source make objects look to my eye as compared to a reference?

TLCI: how does the source make objects look through a monitor and camera to my eye?

SSI: doesn't take eye receptors into consideration, but only a light source-to-light source comparison.

What does the X8 array have to do with all of these metrics?
So what is it about the Lustr X8 array that keeps ETC fixtures standing above the competition within these metrics? When ETC's research and development teams looked at creating the array that would work best on camera, they took all of these protocols into consideration.
The majority of fixture arrays you'll find on the market start with red and green emitters. From there, everyone adds in their own additional mix of colors. But it's that combination of colors and, more importantly, how they work together that makes color mixing magic.
For the Lustr X8 array, we also started with red, green, and standard blue. But then we added:
indigo,

which brings deep jewel tones and creates very impactful moonlight. It's the indigo that really makes your set pop.

amber

, which

brings warmer neutrals and enhances skin tones.
This is my favorite emitter from the array. Combining red and green on a traditional fixture doesn't get these warm tones out. No one else has added an amber emitter like ETC until very recently.


-Craig Kief
lime, a color that has transformed color mixing because of the life it brings to other colors. It helps increase brightness and the long wavelength tail makes colors appear velvety and rich.
cyan brings a surprisingly wide variety of colors to your mixing palette and is incredibly important when generating quality skin tones on camera. When you look at spectral charts during production, the cyan section is often lacking. That's no longer the case with ETC's X8 array fixtures.
deep red, this velvety, rich color brings depth to skin tones and fabrics like we have never seen before. For more about the science behind deep red, watch this video.
Colors you didn't realize were missing, start to come back with deep red." – Wendy L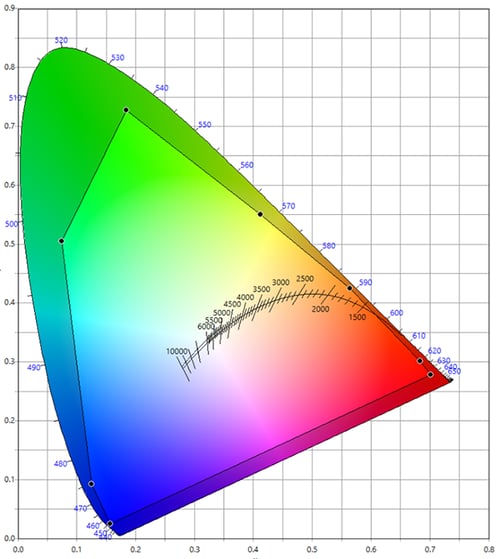 What does this bring to film production?
When you create an image for the camera, you want it to consist of a comprehensive range of data in terms of color and light intensity. That data then can be manipulated to its maximum effect to achieve the final look. You can always strip away extra data, but you can never go back and add more. The simple fact is that color-grading content after the fact costs time and money. And colorists would rather spend their time on the creative details than smoothing out things that could have been prevented by spending a little extra effort on quality lighting up front.
Information is only lost after the point of capture, so you really want to create a full and deep file of information to take into post with the most success. -Craig Kief
The goal should always be to correct as little as possible in post-production. Shoot as true to your vision as possible and save yourself time and energy after the fact.
Saturated colors can be dialed back in post-production. But skin tones are tricky to modify. -Rory Gordon
When filming television shows or movies, skin tones really are the most important thing for directors of photography (DPs) to focus on. In the end, your viewers are looking at the actors and it's the DP's job to make them look as good as possible.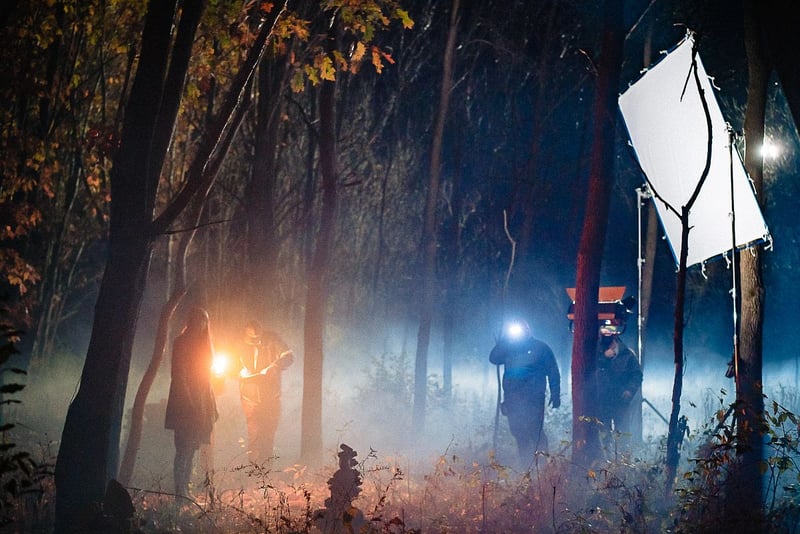 When deciding which fixtures to use on set:
Measure spectral output, not brightest.

Always compare the fixture's color on skin tones and colorful objects to see how the objects react.

Always take your control console into consideration. While Eos consoles are set up to work with all ETC fixtures, not all manufacturer's consoles will be able to take full advantage of X8 array color mixing.
Download the brochure to meet other ETC fixtures that use X8 color technology.
Rory Gordon https://auroragordon.com/
Rory Gordon is a colorist with over ten years of experience in color correction and an unending desire to make great pictures even better. She is one of the most experienced HDR colorists working in television and streaming, with experience finishing over 120 episodes in HDR10 and Dolbyvision. Her work has appeared on HBO, Starz, Amazon, Netflix, Fox, and others.
She absolutely loves both the art and science of light and imaging. Every day she is pulled to the color bay with joy and enthusiasm that is as fervent as the day she built her first basement darkroom many years ago. She works with cinematographers, showrunners, post-producers, and everyone in the pipeline to realize and polish ideas from pre-production to final end-user experiences. From dream to screen.
She is an expert in applied color science, pursuing continuing education with graduate-level coursework from her alma mater RIT, and she is a published author and speaker with the SMPTE Journal, HPA Tech Retreat, and an enthusiastic guest for organizations and podcasts that further explore color science and the overlap between psychophysics and art. She lives in Los Angeles with her partner James Gibson and their two cats.
Craig Kief https://www.craigkief.com/
Cinematographer Craig Kief's impressive body of work spans numerous genres and styles. Kief shot two seasons of The Unicorn and lensed the pilots and first seasons for the 1970s-based period show The Kids Are Alright, the dramedy Me Myself and I, and the action comedy The Mick. Kief recently completed principal photography on The Muppets Haunted Mansion movie for Disney+, which was shot primarily inside an LED Volume using real-time 3D environments running in Unreal Engine instead of practical sets. Earlier, Kief shot the sophomore mockumentary film Tour De Pharmacy, rejoining the team behind 7 Days In Hell, both of which were for HBO.
In between long-form projects, Kief shoots commercials for clients such as Apple, Under Armour, Disney, AT&T, Google, and many others. He has also lensed dozens of music videos, including Lovett's 'Eye of the Storm', which earned Kief a nomination for best cinematography at Camerimage. His work has been covered in American Cinematographer, ICG, IndieWire, Post Magazine, and Cinefex.
Prior to working as a cinematographer, Kief spent several years working as a gaffer, and he graduated from the Florida State University Film School – where he received the ASC Gregg Toland Heritage Award Honorable Mention for one of his films.
He currently serves as co-chair of 3 committees at the ASC, including Future Practices - which is tasked with assisting cinematographers in deploying the latest technologies and techniques to work in the pandemic world. He was also recently an instructor in an ASC Master Class on Virtual Production.