The Dingledine Music Center is a part of Bradley University in Illinois. The University's music department uses the hall to host more than 100 local and collegiate performances per year.
Originally built as a church in the 1800s, the Center was renovated in the 1980s as a recital hall for the University. After several decades, the University decided it was time for an upgrade. Kevin Mikolajczak of Bellevue Lighting – and Bradley University alum – was brought in to make the hall fit for a third century.
"I saw a need for a new design to enhance the lighting experience of the venue – which before this had eight par cans to light the entire space," says Mikolajczak. "My partner Alanis Nash and I worked together to create a new plan for the space. A team of USITT members worked with us to hone the plan and choose which products to use."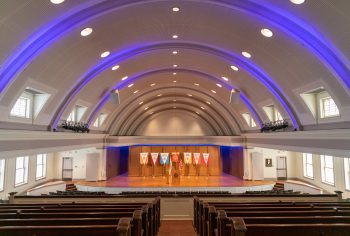 One of the major issues of the space was keeping it architecturally beautiful while also providing light to enhance the space. A major flaw in the design of the hall was the large overhangs. They often created dark shadows which made it hard for musicians to read their music. Working with local ETC vendor Advanced Audio, Mikolajczak used a complement of Source Four fixtures supplemented with RGB tape to bring more light to the stage. A new ColorSource AV console controls all the fixtures. The console's presets and easy interface are perfect for the simpler performances the Center produces and also links the performance lighting to the building's preset system.
"The venue feels like new now," finishes Mikolajczak. "They have simple lighting for most events, and the ability to add some mood to the space easily and quickly."