Recent changes in the US National Electrical Code and UL standards have significantly changed the rules for emergency lighting in the US. We explore those changes in this blog.
For many years, emergency lighting in all kinds of facilities was accomplished with a familiar battery-powered device, known as "unit equipment." Architects and designers gritted their teeth and dialed down their aesthetic expectations, since there was not much choice in code-compliant emergency lighting solutions except ugly, uglier, and ugliest.

Over time, the pressure rose from the design community to get rid of this type of equipment and replace it with lighting fixtures (or "luminaires" in Code-speak) that were identical to luminaires used in a space for normal lighting. The argument was compelling: "Why can't I use the same luminaires for emergency lighting and power them from a central generator or UPS?" This pressure was accelerated by the dominance of efficient LED luminaires that consumed far less power than tungsten units, and could easily provide the required emergency illumination levels. As additional motivation, use of LED luminaires and a central emergency power source eliminated costly maintenance of traditional battery powered unit equipment.
To keep up with this trend, significant changes occurred in the National Electrical Code® (a registered trademark of the National Fire Protection Association) and the UL 924 standard covering emergency lighting and power equipment. Two key sections were added to the NEC. First, a definition was added:
Luminaire, Directly Controlled.
An emergency luminaire that has a control input for an integral dimming or switching function that drives the luminaire to full illumination upon loss of normal power. Informational
Note: See ANSI/UL 924, Emergency Lighting and Power Equipment, for information covering directly controlled luminaires.
That definition tells us that any luminaire with a control input that is used for emergency lighting qualifies as a Directly Controlled Luminaire. That control input might be DMX512, 0-10 volts, DALI, or even a 120-volt control input used to sense failure of normal power. Next, a section was added governing the requirements for Directly Controlled Luminaires:
700.24 Directly Controlled Luminaires. Where emergency illumination is provided by one or more directly controlled luminaires that respond to an external control input to bypass normal control upon loss of normal power, such luminaires and external bypass controls shall be individually listed for use in emergency systems.
Section 700.24 tells us that we can't use just any luminaire with a control input for emergency lighting, it has to be specifically Listed for use in emergency systems. We can then refer back to the informational note in the definition above and determine that a Directly Controlled Luminaire must comply with the UL 924 Standard for Emergency Lighting and Power Equipment. That standard is key to this discussion, not only because it now contains the requirements for Directly Controlled Luminaires, but also because of another recent significant change: the standard now allows cord-and-plug connected emergency luminaires in high bay applications where they cannot inadvertently get unplugged. So, one result of all this code and standard activity is that ETC is now listing a number of our luminaires as Directly Controlled Luminaires for use in emergency systems.
Which ones? It's easy to determine, because as these additional UL924 Listings occur, that will be reflected in revised data sheets and labels. Note the revised wording on the ColorSource PAR: "Conforms to ANSI/UL Std. 1573, 924. WHEN USED IN AN EMERGENCY LIGHTING APPLICATION, THIS IS A DIRECTLY CONTROLLED LUMINAIRE."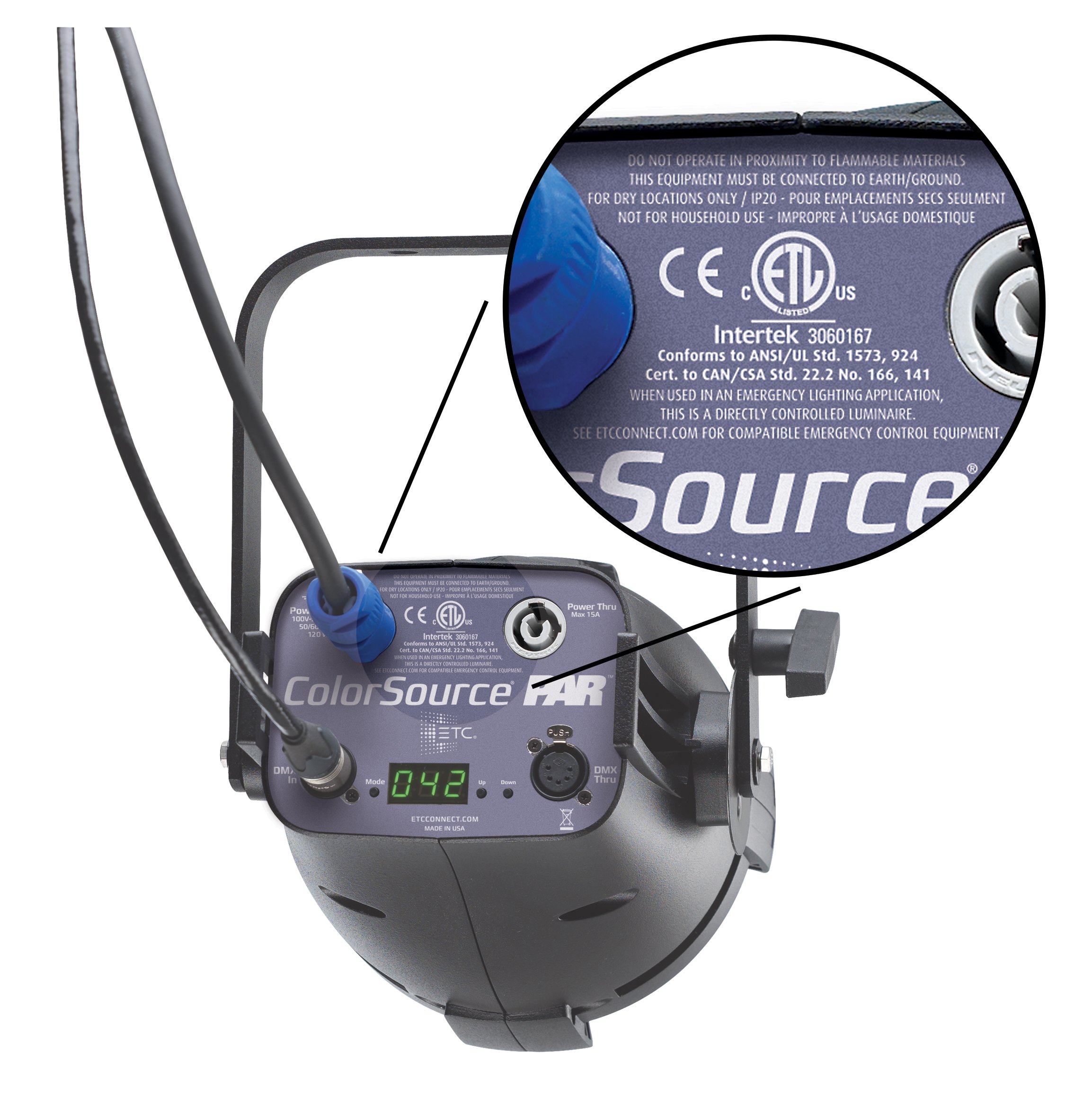 Are there UL 924 Listed Directly Controlled Luminaires available from other manufacturers? Surprisingly, they are few and far between, perhaps because the lighting industry is still catching up with the significant changes in the NEC and UL924 standard discussed above.
---
Do you have questions about Direct Control, or electrical codes or standards as they apply to your fixtures or installations? Let us know in the comments, or email us at blog@etcconnect.com